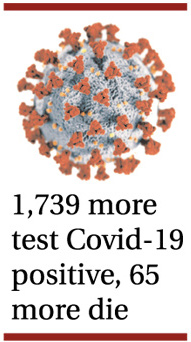 The government has further extended the ongoing countrywide lockdown up to May 16 to contain the surge of Covid-19 infection, officials confirmed on Monday.
However, it amended the lockdown restrictions allowing the operation of intra-city buses from May 06, from when the extended period of the lockdown will begin.
But the operation of long-route buses, launches, steamers and trains will remain suspended until issuing further notice. Mobile courts will operate to monitor compliance of health safety guidelines in shopping malls and markets.
The decisions were taken in the weekly cabinet meeting, held virtually with prime minister Sheikh Hasina in the chair.
After the meeting, Cabinet Secretary Khandker Anwarul Islam made the disclosure while briefing the reporters about outcomes of the discussion.
"The ongoing lockdown has been extended until May 16, considering the current Covid-19 situation," he said.
He, however, said the restriction on public transports would be relaxed only for district towns from May 6, as the current embargo - extended in phases from April 5 - ends on May 5.
But inter-district or long-route buses along with trains and river transports would remain suspended.
About violation of the lockdown rules in markets and shopping malls, Mr Islam said it was decided that from now on police, city corporation and local administration would launch mobile courts to monitor health-related protocols in those.
He said the mobile courts will be able to shut down any shopping mall found not complying with health protocols.
"We have given the message clearly," he added.
To stem the second wave of the pandemic, the government enforced some restrictions in a limited scale for April 5-11. As the Covid-19 situation worsened, a weeklong nationwide hard lockdown was enforced from April 14, which was extended twice until May 5.
The government, however, lifted some of the restrictions, including on markets and shopping malls, considering livelihood of the people despite concern expressed by the health experts.
Meanwhile, the tally of Covid-19 casualties continued to grow, as some 1,739 more people were tested positive in the last 24 hours ending on Monday morning.
According to the state-run Directorate General of Health Services (DGHS), the latest infections detected while screening of 19,431 samples.
The daily positivity rate dropped to 8.95 per cent. During the same period, some 65 more people lost their battle with the deadly pathogen.
"With the latest statistics, the total number of infections and fatalities rose to 7,63,682 and 11,644 respectively," the DGHS health bulletin on coronavirus stated.
In terms of recovery, 3,834 more patients got cured from the highly contagious respiratory disease. The number took the recovery tally to 6,91,162, and the entire recovery rate to 90.50 per cent.