Major economic activities, especially trade and investments, have slowed down in recent times as many investors are adopting a go-slow policy in their new and expansion plans ahead of the national elections.
Such a slow business progress ahead of the 11th parliamentary elections also prompted bankers to cut back on lending, which might affect the country's overall economic growth this financial year, business leaders said.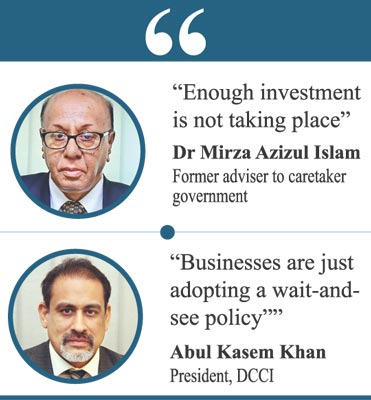 As a result, downward trend is evident in some key economic indicators such as imports of capital machinery, private sector credit growth, expansion of business, and the property and share markets.
Besides, they said, prior to making fresh investments, the businesses will be keeping a close watch on the political environment before and after the upcoming election.
Experts, however, termed the economic sluggishness temporary, saying it will start accelerating once the general elections are over.
But they warned of long-term impact if any violence stages a comeback before or after the polls.
The import of capital machinery came down to $ 1.24 billion during the first three months of fiscal 2018-19 in comparison with $ 1.28 billion recorded a year ago, according to the data from the Bangladesh Bank (BB).
Import growth stood at 11.48 per cent during the first quarter of the ongoing fiscal versus 28.39 per cent in the same period a year earlier. The lower import of capital machinery indicates that the country's investment scenario is cooling.
A BB official said the downward trend in imports of capital machinery keeps continuing in October and November. "We're fearing further fall this month due to the elections," he added.
When contacted, president of the Dhaka Chamber of Commerce and Industry (DCCI) Abul Kasem Khan said uncertainty has been prevailing among the investors ahead of the elections.
Many investors have postponed their business expansion plan and are closely observing the situation, due to political uncertainty, he said.
"They (businesses) do not want to invest fearing political turmoil. They're just adopting a wait-and-see policy," he added.
While public sector borrowing, which remained negative for a long, logged in 2.6 per cent growth in October, but it remains well below the 8.60 per cent ceiling set for the first half of the fiscal year.
Foreign aid inflows and commitment of new funds decelerated during the first four months of the fiscal mainly due to delay in project implementation ahead of general elections.
Funds released by development partners slightly declined to US$1.33 billion in project assistance including $1,274.6 million loans and $55.5 million grants, during July-October period, according to the latest data released by Economic Relations Division (ERD).
During the same period a year ago, the total released fund stood at $ 1.46 billion, which included $1,353.5 million loans and $105.9 million grants.
Anis A. Khan, managing director of Mutual Trust Bank, said the deposit growth in the banking system is slow as the cash circulation among the public soars ahead of elections.
As a result, the ADR (advance deposit ratio) keeps going up and it needs to be controlled within the limit. At the same time, the demand for credit is lower now.
"This has prompted banks to be more cautious about lending money, taking all the factors into consideration," he said, adding the credit growth will start accelerating soon after the polls.
Sales of the landed property, which is a major revenue source of the government, also dropped sharply for the last several months.
According to the Directorate of Registration, on an average, 0.3 million deeds were registered a month during the past fiscal year (FY'18). But the average volume came to less than 0.2 million in recent months.
When contacted, inspector general of registration Md. Abdul Mannan said sales of landed property have gone down by almost 40 per cent as general election, slated for December 30, nears.
Potential buyers are not getting confident enough to invest at a time when there is a possibility of political impasse centering the polls, he said.
AB Mirza Azizul Islam, a former caretaker government adviser said historic analyses of economic data suggest that key drivers of the economy mostly remain stagnant or go down in an election year.
He said imports of capital machinery dropped significantly during the first several months of the current fiscal, which indicates that investment is not taking place.
At the same time, lower-than-expected ADP (annual development programme) implementation alongside downward trend in remittance and foreign aid inflows has imposed extra pressure on the economy ahead of the polls.
"These factors are likely to affect the overall economic growth this fiscal year," he said.
He, however, suggested creating a congenial atmosphere for holding a "participatory" and "acceptable" election for ensuring smooth transition of power.
jubairfe1980@gmail.com