---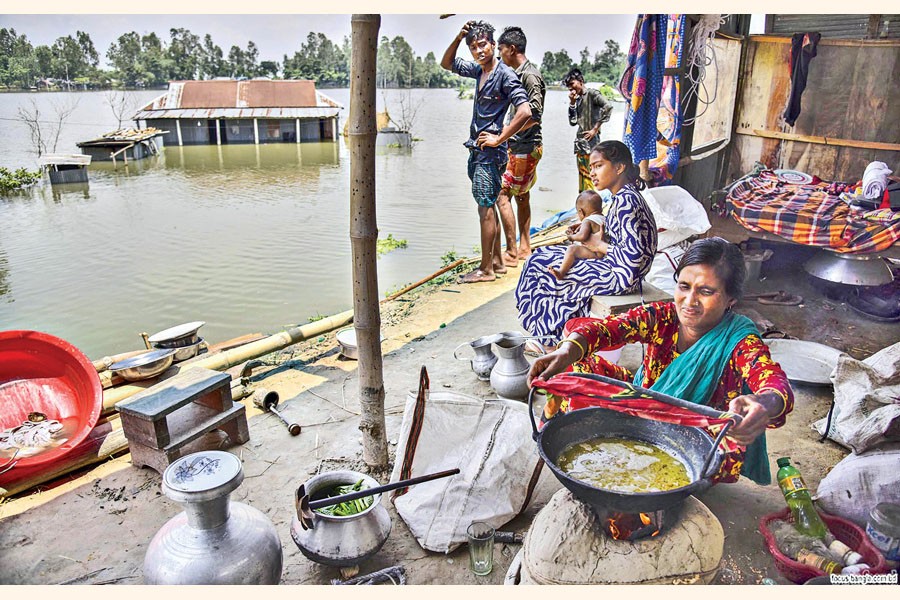 A woman cooking at a makeshift shelter house on the WAPDA Embankment at Balashighat in Gaibandha on Monday as rising flood water has forced many people to move to safer places — Focus Bangla
Fresh areas in the country's northern region were inundated Monday amid heavy rain and heavy onrush of upstream waters from a neighbouring country.
Flood situations worsened in Kurigram, Gaibandha, Bogura, Jamalpur, Sirajganj, and Tangail districts while it remained unchanged in five other north-eastern districts.
Nearly 0.45 million people have been marooned in the flood-affected districts so far.
Earlier on Saturday, parts of Nilphamari, Lalmonirhat, Kurigram, Gaibandha, Jamalpur, Sunamganj and Sylhet districts were inundated by floodwater.
Flood situation in Nilphamari, Lalmonirhat, Netrokona, Sunamganj and Sylhet might improve to some extent, said the Flood Forecasting and Warning Centre (FFWC) on Monday.
Nine major rivers were flowing above their danger marks (DM) at 14 stations on Monday, according to FFWC.
Many houses and standing crops on a vast area of farmland have seriously been damaged by the floodwater.
The people in the regions are experiencing severe flooding following onrush of water from the rivers upstream across the border in the Indian states of Meghalaya and Assam, said FFWC officials. Flooding has also been worsening in the region as it has been raining continuously in the northeastern districts of Bangladesh.
Padma River at Bhagyakul of Munshiganj and Goalondo of Rajbari district and Jamuna River at Aricha points may cross respective danger levels in next 24-48 hours, said Arifuzzaman. River water was rising at 72 points out of 101 in the country.
The river Teesta at Dalia in Nilphamari, Dharala at Kurigram, Ghagot at Gaibandha, Brahmaputra at Nunkhawa and Chilmari in Kurigram, Jamuna at Fulchori in Gaibandha, Bahadurabad in Jamalpur, Sariakandi in Bogura, Kajipur in Sirajganj and Sirajganj Sadar districts, Surma at Kanaighat, Kushiara at Sunamganj, Old Surma at Derai and Someshori at Kalmakanda points were flowing above their respective danger levels.
In Tangail, many riverside areas of Tangail Sadar, Bhuapur and Kalihati upazilas were flooded while river erosion also continued.
In Kurigram, around 0.15 million people were left marooned as the water level in the Brahmaputra and Dharla rivers swelled further as of Monday morning.
Sources at the Department of Agricultural Extension (DAE) said crops on 1,692 hectares of land were inundated by the floods.
Deputy Commissioner of the district Mohammad Rezaul Karim said that 302 tonnes of rice were allocated for the flood victims in addition to Tk 3.8 million cash.
In Jamalpur, the flood situation in the district further deteriorated as the major river Jamuna continued to flow above the danger level affecting 0.146 million people.