The government is working to adopt the revised Detailed Area Plan (DAP) for Dhaka for the 2016-2035 period, updating the existing database, amid doubts from the experts and environment activists over its successful implementation.
Under the initiative, Rajuk has already started consultation with the relevant agencies and other stakeholders to finalise the second DAP.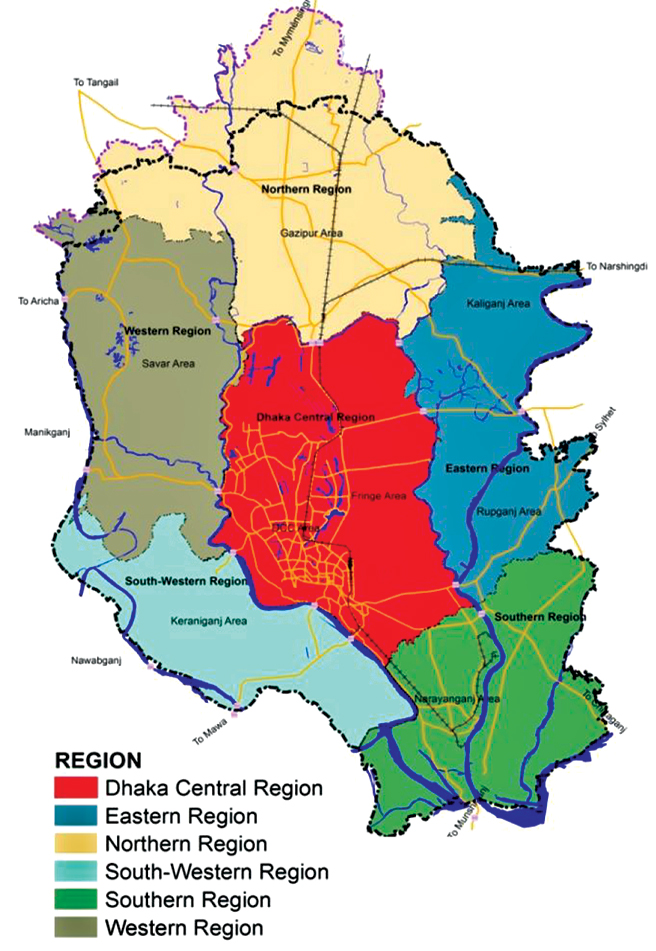 "We have already sat with different ministries and other stakeholders to have their opinions and suggestions for finalizing the DAP under Preparation of DAP for Dhaka Metropolitan Development Plan project," DAP project director (PD) Ashraful Islam told the FE.
"We hope the draft plan will be submitted by December, while public hearing on it will be held in January-February."
He said after preparation of the report and mapping, gazette notification will be issued by next April.
"This year's plan is for making land use and activities of Dhaka city functional. The plan will also incorporate functional management and transfer of development rights system as policy," Mr Ashraf added.
However, the move to adopt the revised DAP is taken in the backdrop of little progress in enforcement of the initial DAP that Rajuk adopted years ago, the experts have opined.
The government took the initiative to prepare DAP for Dhaka in 1995, its gazette notification was issued in 2010, and the implementation responsibility was handed over to Rajuk. The phase was from 1995 to 2015, but Rajuk extended it for two more years with little progress in enforcement due to various political and other pressures.
According to Rajuk, the objective of the revised DAP is to update the existing database (physical feature, topography, land use, socio-economic, traffic and transportation), analyze existing DAP on the basis of the updated database, prepare revised DAP (2016-2035) according to the analysis of existing DAP, and follow the guidelines of the approved higher level plans.
To create separate planning entities the project area (1,528 sqm) is divided into six planning regions based on administrative boundaries. These are Central Region or Core Dhaka City, Northern Region or Gazipur Sadar upazila, Eastern Region or Rupganj and Kaliganj upazilas, Southern Region or Narayanganj, Bandar and Sonargaon upazilas, South-Western Region or Keraniganj upazila, and Western Region or Savar upazila.
All regions have different levels of urban centres within them. The project area has five regional centres (Gazipur, Narayanganj, Savar, Purbachal and Jhilmil), 18 sub-regional/major centers and six specialized centres (Dhamsona, Bhulta, Konabari, Tongi, Adamjee and Pangaon).
Some of the core interventions to ensure functionality of the city are to identify the canal, lake and river corridors for public use, incorporate comprehensive development plan regarding vegetation and pedestrian walkways, cycle ways and clean water in DAP, priority of preservation of four rivers around Dhaka (Buriganga, Turag, Balu and Shitalakkhya), canals within CS and RS map, khas pond, retention pond, and conservation of required flood flow zones.
In a programme of Bangladesh Institute of International and Strategic Studies (BIISS) this year, Prof Jamilur Reza Chowdhury said DAP and STP were formulated for a planned Dhaka city. But those could not be implemented due to unwillingness of the political power combined with business interests.
Echoing him Architect Iqbal Habib said the implementation part of the first DAP was clearly mentioned. Mainly the government handed it over to Rajuk for not implementing it, which created scopes for the land grabbers to encroach water-bodies and flood flow zones. The duration of 2010-15 was for legalising the smaller projects, undertaken violating DAP, he added.
Experts also expressed critical views regarding the change in the title of DAP.
"If the scope for changes of the structures is legalized, the process of abandoning the city will be faster. Land has to be acquired for blue and green network," Iqbal Habib also said.
Bangladesh Institute of Planners (BIP) President Prof Abul Kalam said a structure plan specifies the land use like core city, water-bodies, agriculture land and forest. The present DAP involves a huge area, including the biggest city corporation like Gazipur.
He also said Dhaka has an area equivalent to four Hong Kong cities, which can accommodate about 45 million people. The way the DAP preparation is progressing, it is quite difficult for Rajuk to prepare detailing. For this priority-based short term plan is required, he added.
But DAP PD Ashraful Islam thinks the detailing of the 1,528 sqm area as well as implementation of DAP is not difficult. He claimed they have established several zonal offices by this time and engaged adequate manpower to prepare the revised DAP.