---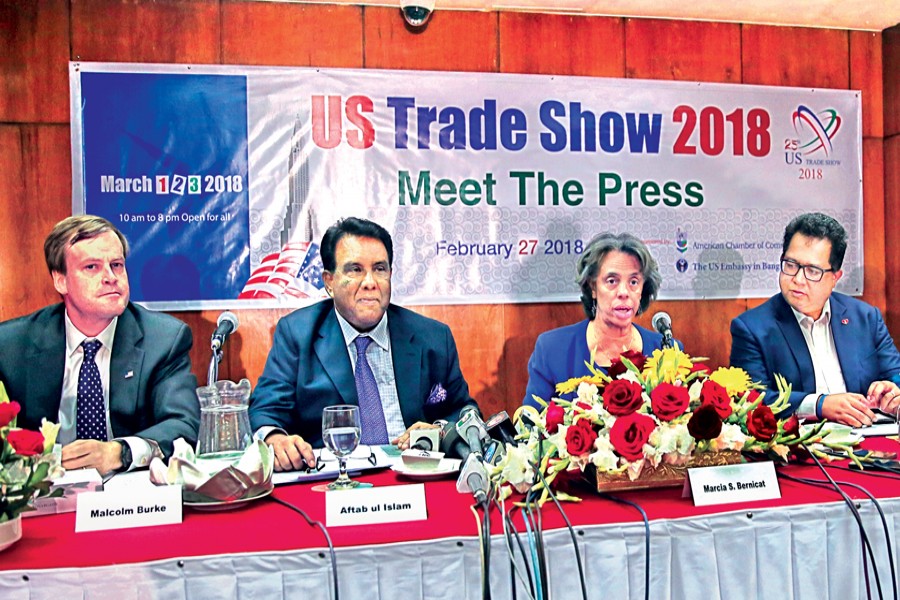 US Ambassador to Bangladesh Marcia Bernicat speaks at a press briefing on Tuesday ahead of the US Trade Show 2018 beginning in the city tomorrow. — FE photo
Terming Bangladesh a potential market for American companies, US Ambassador to Bangladesh Marcia Bernicat said Tuesday corruption still remained a major challenge for companies to do business here.
She stressed the need for effective measures to improve the business climate and said the improvement will not only help attract increased volume of FDI (foreign direct investment) but enable domestic companies to make business in a more efficient way.
The US envoy mentioned that the government of Bangladesh has taken concrete actions towards making ease of business indicator more favourable by improving level-playing field.
"But progress has not yet been seen," she told a press briefing on the 25th edition of US Trade Show 2018. The three-day show begins in Dhaka tomorrow with more than 150 US companies to be represented by 43 exhibitors from home and abroad.
American Chamber of Commerce in Bangladesh (Amcham) organised the press conference at a city hotel to announce the event schedule.
Bangladesh Commerce Minister Tofail Ahmed is expected to inaugurate the exhibition, which will be featured with four different seminars on topics like Doing Business in America and Doing Business in Bangladesh.
Bernicat pointed out challenges like ensuring transparent bidding process, removing bureaucratic complexities, improving supply of electricity as well as roads and port facilities.
"Corruption still remains a challenge for firms doing business here. I think, there are number of areas where progress still needs to be made."
She said that businesses could choose any country to do trades and business considering their viability as far as profit and qualitative products are concerned in the globalised world.
"And infrastructure (deficit), lack of transparent bidding process and corruption all represent risk for business," she said.
She said that this trade show came at the auspicious time of US-Bangladesh bilateral relations with registering 61 per cent growth of US export to Bangladesh and reached to $1.47 billion in 2017.
"The two-way trade reached to $7.0 billion in 2017 against just over $1.0 billion in 1992 and I look forward supporting more US firms to navigate potential Bangladesh market," said the US ambassador.
She said the US Department of Agriculture will be one of the new exhibitors in the show and informed the press conference that the department recently opened its attaché at the embassy.
When her attention was drawn on which thing - democracy and development-is more important for a nation, she said a well-functioning democracy needs both.
Talking about the trade show, AmCham acting president Shadab Ahmed Khan said the annual event would help stimulate greater understanding about each other's economic potentials and opportunities.
He said the exhibition of top quality US products will be showcasing at Sonargaon Hotel from 10:00am to 8:00pm during the show days. The entry fee is fixed at Tk 30 per person excepting students having ID (Identity) cards.
Regional manager of the US Department of Commerce's Advocacy Center Malcolm Burke and former AmCham president Aftab Ul Islam also spoke on the occasion.