A research conducted by the icddr,b scientists has raised concern over the spread of deadlier Indian variant of coronavirus in Dhaka, private TV channels and online news portals reported.
Genomic sequences of around 60 samples of Covid-19 infected people found presence of the virus similar to the Indian or Delta variant of coronavirus among nearly 68 per cent or 41 of the patients, a private TV channel reported, quoting Senior Scientist and Head, Virology Laboratory, icddr,b Dr. Mustafizur Rahman.
The icddr,b scientists conducted the research during the period between May 25 and June 7 last,
Besides, presence of other variants namely South African (22 per cent), Nigerian Alpha ones were also found in the research, according to the reports.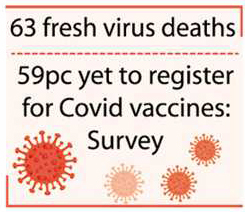 However, the delta variant of coronavirus, which had already caused havoc in India, were detected in a number of people of Bangladesh, especially those who returned from India and some others in the bordering areas.
Meanwhile, Bangladesh witnessed on Thursday the highest daily virus death tally in six weeks as the situation in frontier Khulna district deteriorated further.
The Directorate General of Health Services (DGHS) reported total fatalities from Covid-19 at 63 in the past 24 hours until 8:00 am from Wednesday's 60.
Of the total, the highest number of deaths was reported in Khulna division at 20, followed by Rajshahi at 13 and Chattogram at 11.
On the other hand, the daily countrywide caseload also reached 3,840 on Thursday.
However, the Covid-19 test positivity rate slightly inched down to 15.44 per cent on the day from Wednesday's 16.62 per cent, said a DGHS press release. Of the total, the highest daily cases were reported in Khulna division at 765 after Dhaka division at 1,328 during the period under review.
The daily infections in Rajshahi division, however, showed a downward trend as the DGHS reported 645 new cases on Thursday against the previous day's 813.
Our Rajshahi correspondent reported that 44 more new cases were admitted to the corona unit at Rajshahi Medical Collage Hospital during the period.
The total number of admitted patients reached 358 until Thursday morning against existing 309 beds at the unit.
Many of the bordering areas, including Rajshahi, Chapainawabganj, Khulna and Satkhira, have witnessed a surge in infections in recent times.
Although the respective district administration has imposed 'hard lockdown' to contain the spread of the virus, no visible improvement in the Covid-19 situation is yet to be reported.
Meanwhile, as many as 28,871 samples, including antigen-based rapid ones, were tested, while 25,771 samples were collected countrywide during the period.
Again, 2,714 people have recovered in the country during the last 24-hour reporting time, according to the DGDH figures.
The rate of recovery from the coronavirus disease was reported at 92.32 per cent on the day.
On the other hand, the rate of fatalities from Covid-19 also remained unchanged at 1.59 per cent.
According to official data, the total Covid-19 cases have so far reached 841,087 in Bangladesh and 776,466 of them recovered from the deadly disease. On the other hand, more than 6.267-million samples have been tested across the country since the virus was detected here in March 2020.
Meanwhile, a total of 3,295 more people received the second dose of Covid-19 vaccine (AstraZeneca-Covishield) in Bangladesh on Thursday.
With this, the government administered over 10-million doses-about 5.82-million first doses and 4.26-million second doses-since the mass vaccination launched in the country on February 07.
Meanwhile, Rajshahi and Satkhira extended lockdown by a week amid an alarming surge in Covid-19 cases in the bordering areas, according to local news agencies. The local authorities imposed strict restrictions in the Mirpur municipal area of Kushtia district.
Eighteen more patients died in Khulna division in the past 24 hours, a top health official said.
The positivity rate in Rajshahi division reached 43.44 per cent, 31.68 per cent in Rangpur division and 42 per cent in Jashore district.
The coronavirus unit at Jashore Sadar Hospital has been stretched beyond capacity amid a sharp uptick in cases in the district.
Moreover, four deaths from the disease were reported in the past 24 hours.
Another agency report adds: Mass vaccination is expected to resume in July as the government is making all-out efforts to collect vaccines, said principal secretary Dr Ahmad Kaikaus on Thursday.
"Hopefully, we'll be able to restart vaccination on a mass scale in July," he said, replying to a query at a press conference hosted at the PMO over Ashrayan-2 project.
He said the government has already talked to several countries over Covid-19 jabs. It is also trying to produce vaccines locally.
"We expect to get the vaccines soon," Dr Kaikaus added.
Noting that Tk 140 billion has been allocated for procuring vaccines, he said the PM always says Bangladesh need not free vaccines as it will buy those wherever available.
"We've made good progress," he mentioned.
However, Though more than 80 per cent of the population was willing to take vaccines for Covid-19, over one-third of them didn't register due to various reasons including lack of clarity in registration information, according to a survey.
Almost two-thirds or 59 per cent did not register for vaccines, even though 27 per cent of them were eligible for the vaccines and 16 per cent of them were unsure about eligibility. The survey conducted by BRAC Institute of Governance and Development (BIGD), BRAC University also showed that the rate of registration for vaccines are lowest among the poorest.
Homemakers, day-labourers, drivers, helpers and housemaids are some of groups who had low registration rates.
The report was revealed on Thursday at a webinar titled "Covid-19 Vaccination: Willingness and Practice in Bangladesh".
The survey showed that more than 80 per cent had learned about vaccine registration from their relatives, neighbours or friends.
It also said 75 per cent in urban slums and 45 per cent of general urban population did not feel need for vaccines.
The survey is a compilation of three telephonic surveys which were carried out between January 23 and February 11, February 28 and March 07 and March 10 and March 31.
BIGD analysed the data from the three surveys which were conducted to shed light on the vaccination programme.