---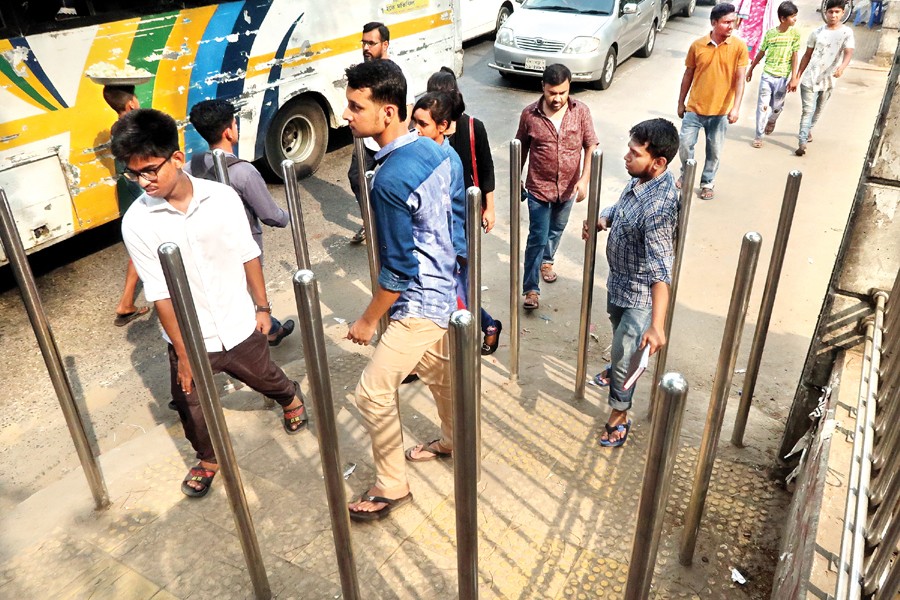 Authorities have installed steel bars to prevent motorcyclists from using the footpaths, but these are also impeding the movement of pedestrians. This photograph was taken from in front of Dhaka Shishu Park in the city on Saturday — FE photo by Shafiqul Alam
The number of motorbikes plying the roads continues to skyrocket, taking 65 per cent share of the total registered motor vehicles in the country.
During the years since 2011, the number of motorcycles have been on the rise. Their share in total number of motor vehicles now stands at 65 per cent.
The number of motorcycles registered by the Bangladesh Road Transport Authority (BRTA) was 2.51 million until February, while the number of all registered vehicles is 3.88 million.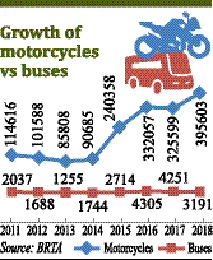 Although the demand for public transports, including bus and minibus, is high, the number of buses among the registered vehicles is only 46,742, representing only 1.2 per cent of all vehicles.
Officials said motorbikes have become the most popular mode of transport in the country due to their mobility as well as cheap price.
Besides, the recent popularity of ride-sharing business and establishment of motorcycle assembly plants in the country have also contributed to the rise in the number of the vehicle.
Transport experts, however, do not consider the growth in the number of motorcycles a positive development for the country, particularly in the urban cities.
They said this growth has been largely to massive lack of mass transports in the country.
The growth in number of motorbikes is also linked with rise in the number of road accidents, said Professor Moazzem Hossain of the Bangladesh University of Engineering and Technology (BUET).
According to the BRTA data, the number of motorcycles on the streets has been rising since 2015. The agency witnessed the growth of two-wheelers from 90,685 to 240,358 between 2015 and February, 2019.
The maximum number of motorcycles were registered in 2018.
According to riders, traffic jam and low fuel consumption encourage them to opt for motorcycle as the mode of transport.
They said per kilometre cost of fuel for riding motorcycles is much lower than the fare charged by rickshaws and three-wheeler auto-rickshaws.
According to a survey, per km cost of fuel in case of motorcycles is only Tk 2.0, whereas it is Tk 20-30 in case of rickshaws.
The BRTA has fixed Tk 5.0 as the lowest fare for buses, but fare that is hardly followed by bus operators.
The BRTA data shows that the share of private cars among the registered vehicles is only 9.04 per cent, although private cars are blamed for traffic congestion, particularly in urban areas. The share of auto-rickshaws is 7.0 per cent only.
Professor Moazzem Hossain said despite popularity, motorbikes are prove to accidents and cannot be an alternative solution to public transports.
"The government should take the issue seriously, and focus more on ensuring safe public transports by making those attractive to mass people."
The government has to discourage commuters to use small vehicles and increase the mobility of public transports on the roads, he added.