---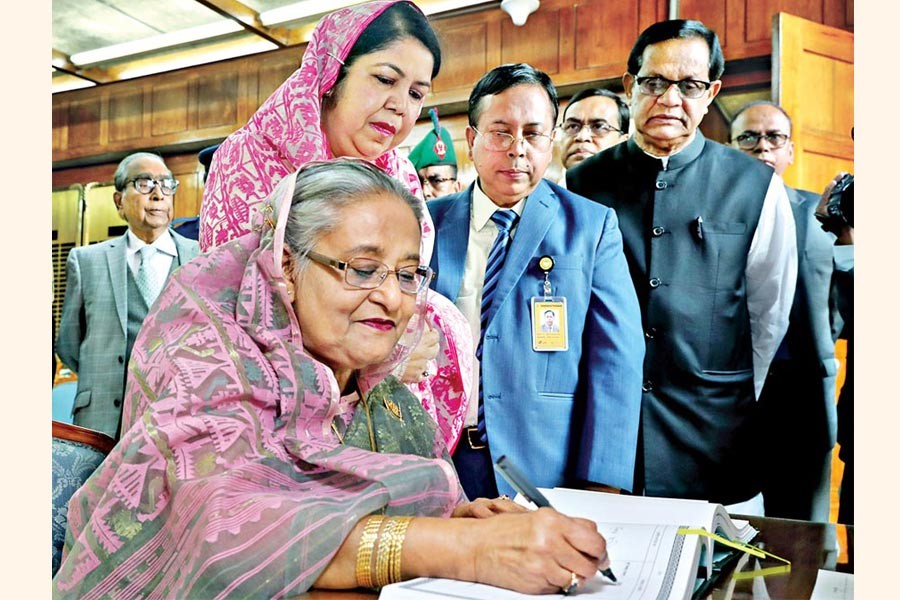 Prime Minister Sheikh Hasina signing the members' book at the oath-taking ceremony of the newly elected MPs at Jatiya Sangsad Bhaban in the city on Thursday. Speaker Dr Shirin Sharmin Chaudhury was present on the occasion — BSS
Newly elected members of parliament (MPs) of Awami League, Jatiya Party and other parties as well as independent ones were sworn in at three separate functions on Thursday, reports UNB.
Outgoing Speaker Dr Shirin Sharmin Chaudhury first took oath herself as an MP and then administered the oath to other AL MPs at the Oath Room of the Jatiya Sangsad Bhaban at 11.00am.
Later, the Speaker administered the oath to the MPs of Workers' Party, Jasod (Inu), Bikalpadhara Bangaldesh, Jatiya Party (JP-led by Manju) and Tarikat Federation as well as the independent ones at 11:45 am.
Dr Shirin administered the oath to the Jatiya Party MPs at 12:18pm.
Senior Secretary of Parliament Secretariat Dr Zafar Ahmed Khan conducted the oath-taking ceremony for new MPs.
However, the five elected MPs of BNP and two of Gano Forum did not turn up to take oath.
Meanwhile, Awami League President and Prime Minister Sheikh Hasina has been reelected Leader of the House unanimously for the 11th parliament.
The new MPs of Awami League reelected Hasina Leader of the House for the third consecutive term at the maiden meeting of the AL Parliamentary Party (ALPP) held at the Jatiya Sangsad Bhaban after their oath taking on Thursday.
AL General Secretary Obaidul Quader and its Advisory Council member Tofail Ahmed confirmed it while talking to reporters after the meeting.
However, the Deputy Leader of the House was not picked at this first meeting of the ALPP.
Tofail said Obaidul Quader proposed the name of AL president Sheikh Hasina for electing her the Leader of the House, while AL Advisory Council member Amir Hossain Amu seconded the proposal.
Later, all the AL MPs supported the proposal and greeted Sheikh Hasina with big claps.
Tofail said Hasina is going to be the Prime Minister for the fourth time as an internationally renowned politician and the leader of the mass people of Bangladesh. "With this, Bangladesh is going to enter the golden age for the next five years," he added.
Noting that the people of Bangladesh had long been waiting for December 30, Tofail said people recognised Sheikh Hasina as the leader of mass people by casting votes for 'Boat, the electoral symbol of Awami League, on December 30 the way they attained independence by voting for Boat in 1970.
Obaidul Quader mentioned that they only elected the Leader of the House at the meeting and said Prime Minister Sheikh Hasina asked all to work together.