---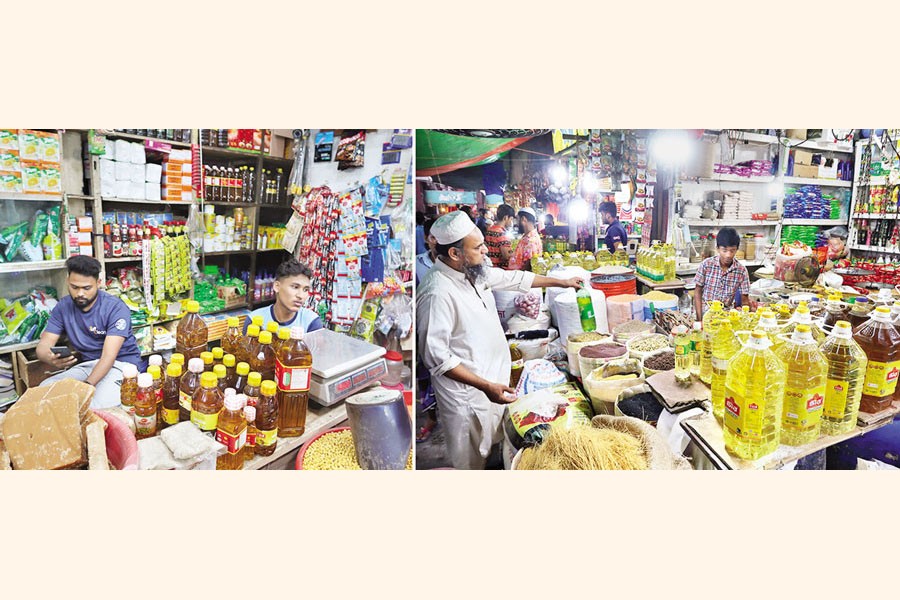 The crisis of soybean oil has eased to some extent as the cooking oil is now available at wholesale markets, but not at retail shops. The photo shows a grocery (left) at Segun Bagicha in the city with no supply of the oil while a wholesale shop (right) at Karwan Bazar selling the oil on Friday — FE photo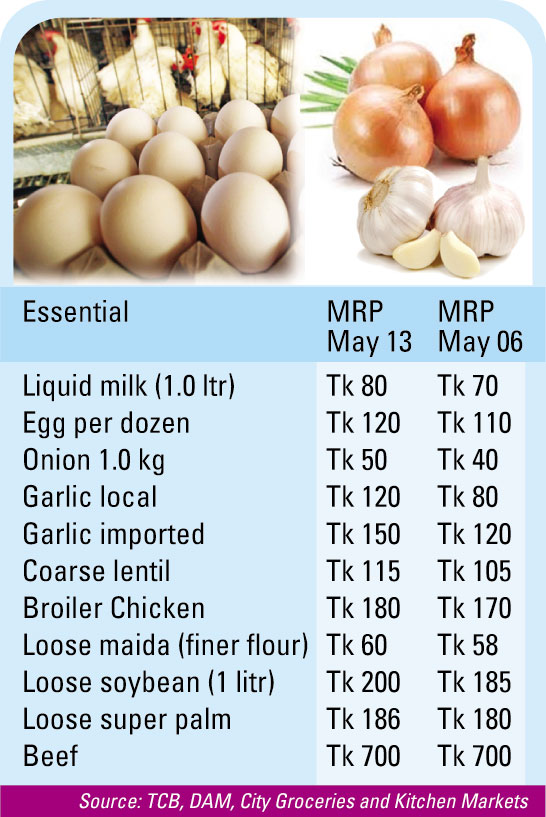 Consumer sufferings mounted further last week as prices of liquid milk, broiler chicken, egg, wheat flour, onion, lentil and garlic increased notably amid the current scarcity of edible oils.
Liquid milk price increased by Tk 10 a litre to Tk 80 at retail level as Aarong Dairy raised the price, said grocers.
Aarong milk retailed at Tk 80 a litre, resulting in a 14.28-per cent hike just in two days. Aarong Dairy is an initiative of BRAC Enterprise.
Its half-litre milk's maximum retail price has been set at Tk 40 per pack from Tk 36 earlier, said Ullash Rahman, a grocer at Sher-e-Bangla Road in Mohammadpur.
However, state-run cooperative Milk Vitae, and private entities Pran and Aftab were yet to review their liquid milk prices, according to groceries.
Milk Vitae's pasteurised milk sold at Tk 75 per litre and its half-litre pack at Tk 38 on Friday morning.
BRAC Enterprises senior director Mohammad Anisur Rahman told the FE that their production costs have increased by minimum 35 per cent in the last three months amid a surge in animal feed price, transportation and others, including packaging and spare parts.
He said the social enterprise has raised the asking rate of milk for farmers by Tk 4.5 a litre in the last four months in two steps as dairy farmers' cost for cattle feed has risen by 35 per cent in recent times.
Transport cost has increased by minimum 30 per cent for diesel price hike, he added. "We withheld the review of price following the holy month of Ramadan in April."
Aarong Dairy is now the second-biggest supplier of liquid milk followed by the market leader Milk Vitae.
Meanwhile, egg prices hit a record high, jumping to Tk 10 apiece (Tk 120 a dozen) from maximum Tk 9.0 per piece a week back.
Abul Hossain Sarker, a grocer at Buddhijibir Dhal area of Jafrabad in Rayerbazar, said prices of eggs, milk and onion have increased almost at a time.
He said Aarong milk wholesale price increased to Tk 74.5 per pack which was Tk 65 two days ago.
Egg price increased by Tk 120 per hundred pieces during the period, onion by Tk 5.0-7.0 hike wholesale and garlic Tk 30-40 a kg.
However, retail price of onion has increased by Tk 10 a kg to Tk 40-50.
Meanwhile, supply of edible oils surged slightly, but still there is a visible scarcity of the item in the groceries located in lanes and alleys in Dhaka city.
Visiting Lalmatia, West Dhanmondi and Segunbagicha residential areas, the FE hardly found any groceries with bottled soybean oil.
One or two shops had got few bottles which sold out in hours at the government-set price of Tk 198 a litre, said Md Iftekhar, a Lalmatia grocer.
A spot visit to some kitchen markets found that prices of loose soybean increased further on Friday.
It retailed at Tk 190-200 a litre against the government-fixed rate of Tk 180 and super-palm at Tk 186-190 against the official rate of Tk 172 a litre.
SM Nazer Hossain, vice-president at Consumers Association of Bangladesh (CAB), said the government has almost lost its control over this volatile market and maximum 10 companies are dominating it.
The absence of an exemplary punishment for market rigging has been encouraging traders to make windfall profits by holding consumers hostage, he observed.
Mr Hossain suggested that the government ensure harsher punishment of those who will be proved guilty.
The supply chain should be smooth through removing all barriers for import-dependent essentials, he said.
However, consumer rights protection directorate declared that it will start a crackdown next week.
The drive will carry jail terms along with financial penalty and the scrapping of licences of unscrupulous traders for hoarding and also for forcing people to buy other products as package along with edible oil.