Bangladesh's insurance penetration and financial inclusion through tech-era innovations are poised for a quantum leap with a novel acceleratory body matching with the new economy, sources said.
The Insurance Regulatory Sandbox, first of its kind in the country's financial history, is tasked to introduce new concepts and products apace with fast-changing economic operations amidst the fourth industrial revolution.
The Insurance Development and Regulatory Authority (IDRA) which now governs 81 insurers has made the move to introduce the regulatory sandbox pivoted by artificial intelligence or AI.
As designed, the Insurance Regulatory Sandbox is to reduce regulatory hurdles for companies that want to introduce new concepts and products at the same speed as insurance-technology develops.
Such sandbox is available in neighbouring economies like India, Pakistan and Malaysia apart from the developed hemisphere of the globe encompassing Europe and the USA.
The IDRA has prepared an operational guideline for this matter. It will organise a consultation with major stakeholders to be held on June 08 next.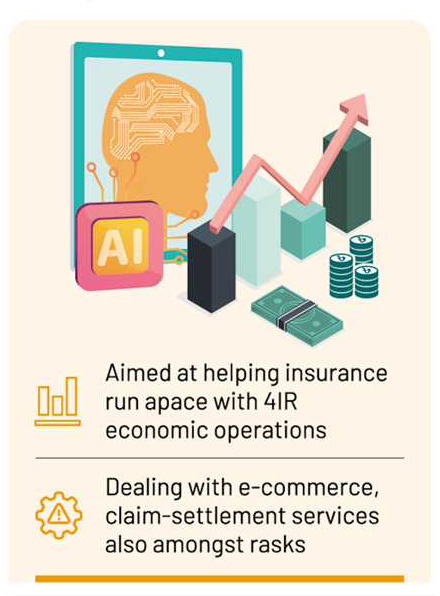 The modus operandi in the guidebook will be applicable to insurers, any financial institution, any insurtech or startup, or any individual or institution the regulator allows.
An executive of the IDRA told the FE that they would prioritise product development, e-commerce, claim-settlement services, or underwriting matters under the sandbox.
He thinks this is important as there are many issues that do not now match or cover the traditional regulatory rules and regulations.
He mentions that there is a use of artificial intelligence or AI in many issues, including rate making, but the regulator may not approve it. Now, under the regulatory sandbox, any fintech or startup may propose it for the introduction.
"We believe many innovative ideas and thinking may revolutionize the industry under the sandbox," he says on an upbeat note about the up-and-coming insurance promoter.
The regulator will give permission for innovations for test cases or feasibility studies and later that will be introduced in the insurance industry.
Another insider in the IDRA told the FE that Bangladesh's insurance industry is not growing as expected on many grounds one of which is lack of innovative ideas. The regulatory sandbox may help overcome such hurdles and look for ways to survive the AI-driven revolutionary changes, he hopes.
He also forecasts that engaging the insurers and encouraging forward-thinking and developing new products and services will strengthen them financially.
Nurur Rahman, a US-based data scientist, told the FE that the insurance industry worldwide uses traditional tools and methods for actuarial rate-making that are limited in scope and capabilities.
But these methods are not suitable for handling millions of customers with hundreds of attributes. This is where artificial intelligence or AI comes into play, providing a new standard of pricing models significantly improved performance, he notes.
"Sandboxes will give businesses the chance to develop services that might be outside of the status quo and encourage companies to explore ideas that could better serve employees as well as customers," said Mr Nurur Rahman, who is familiar with such developments in the United States of America. He said AI can play a significant role in actuarial rate-making for the insurance industry in Bangladesh by helping insurers analyze data, create sophisticated yet explainable predictive models, personalize rates, and streamline the rate-making process.
"AI algorithms can process large amounts of data, including demographics, claims, and policyholder-behavior data, to identify patterns and relationships that can inform rate-making decisions." The insurance regulatory-sandbox operation guidelines also include eligibility of applications, approval rules, and other operational issues.