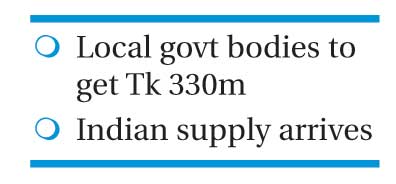 One more person infected with COVID-19 died in the country, raising the death toll to five as of Wednesday, according to the Institute of Epidemiology, Disease Control and Research (IEDCR).
However, no new coronavirus cases were detected on the day. The IEDCR tested 82 samples but no virus was found.
As of Wednesday, a total of 794 samples were tested, 39 of which were confirmed positive.
Meanwhile, two more persons who contracted the deadly pathogen have recovered. With them, a total of nine COVID-19 patients have recovered so far.
The man who died on Wednesday was 65 years old and had multiple comorbidity health conditions such as hypertension and diabetes.
He came in contact with an expatriate who returned home recently, IEDCR director Prof Dr Meerjady Sabrina Flora said at a virtual press briefing on Wednesday.
The man was diagnosed with COVID-19 on March 18. He was undergoing treatment at a local hospital. Later, he was shifted to Kuwait Maitree Hospital in the city.
For the first time, the IEDCR director acknowledged that community transmission of the virus might have occurred on a limited scale, as they could not find out the source of infection in the two cases they were investigating.
"We were investigating two cases. But the source of infection could not be detected. We assume that community transmission might have occurred on a limited scale," she said while replying to questions.
Dr Flora also said the area has been locked down for suspected community transmission. But this does not mean that community transmission is taking place in the whole country. There is hardly any COVID-19 positive pneumonia case in the country.
She also claimed that the IEDCR has tested enough samples so far.
The COVID-19 test facilities will be expanded to Dhaka Medical College and Hospital, Sir Salimullah Medical College and Hospital, Dhaka Shishu Hospital, Institute of Public Health and Nutrition (IPHN), Bangladesh Institute of Tropical and Infectious Disease lab at Foujdarhat in Chattogram, two laboratories of IEDCR in Cox's Bazar, Sylhet MAG Osmani Medical College and Mymensingh, Khulna, Rangpur, Rajshahi and Barishal medical colleges and hospitals, she said.
Dr Flora also requested all to call at two new hunting numbers -- 01944333222 and 10655 -- for any help regarding the disease.
Until now, 47 people have been kept in isolation while 47 others are in institutional quarantine, she said.
UNB adds: The local administration has put Bailjuri village of Ghior upazila under lockdown to prevent transmission of coronavirus following the death of an elderly man with symptoms of COVID-19.
Ghior UNO Irene Akhter made the announcement on Wednesday and sent 26 residents of six houses to home quarantine until further instruction.
The UNO said Alamgir Hossain was a cashier at Metropolitan Hospital in the capital and resident of the village. Doctors advised him to undergo home quarantine as he had been suffering from asthma and fever since last week.
He was being taken to Kurmitola General Hospital on Tuesday night as his condition deteriorated but he died on the way.
Later, the family members brought his body to the village and buried him at family graveyard early in the morning.
Following the death, coronavirus panic spread among the people in the village. On information, the local administration rushed in and declared the village under lockdown.
Deputy Commissioner SM Ferdous said members of the Institute of Epidemiology Disease Control and Research (IEDCR) collected the medical history of the deceased who was suffering from fever and heart disease.
A woman showing symptoms of coronavirus, died at Rajshahi Medical College Hospital early Wednesday.
Abu Hena Mostafa, in-charge of Intensive Care Unit (ICU) of the hospital, said the 46-year-old was hospitalised on March 20 with fever, cold-related and breathing problem.
As her condition deteriorated, she was shifted to the ICU on March 22.
Dr Saiful Ferdous, deputy director of the hospital, said they contacted the Institute of Epidemiology, Disease Control and Research (IEDCR). But the woman died before samples could be collected..
An FE report adds: The Local Government, Rural Development and Co-operatives Ministry decided on Wednesday to allocate Tk 330 million (33crore) to local government bodies for combating the spread of coronavirus infection.
The ministry took the decision at a meeting on coronavirus at Bangladesh Secretariat.
LGRD and Co-operatives Minister Md Tajul Islam chaired the meeting.
The meeting decided to allocate Tk 185 million to 12 city corporations for the purpose of running cleanliness and anti-mosquito drives and containing the spread of the deadly coronavirus.
Besides, 328 municipalities will get Tk 95 million and all union councils Tk 50 million for the same purposes.
The Department of Public Health Engineering (DPHE) which is under the Local Government Department is now making hand-washing arrangements in eight divisional towns while five such facilities in each district town and one in each upazila town.
The DPHE will also allocate Tk 0.1 million for each district for purchasing bleaching powder, soap and spare parts of tubewells.
The World Bank has donated Tk 20 million to the DPHE for purchasing soap and hand sanitizer.
India has handed over 30,000 surgical masks and 15,000 headgears to Bangladesh with intent to help the government tackle the transmission of COVID-19.
The assistance is intended to support the efforts of the government of Bangladesh in tackling coronavirus, says a spokesperson for the Indian High Commission.
The Indian high commissioner in Dhaka, Riva Ganguly Das, handed over the safety equipment to foreign minister Dr AK Abdul Momen on Wednesday.
New Delhi's assistance to Dhaka is seen by many as part of India's 'neighborhood first' policy.
With a view to taking a collaborative regional approach to containing the spread of COVID-19, Indian premier Narendra Modi and other SAARC leaders held videoconferencing on March 15.
In pursuance of the announcement made by Mr Modi, a COVID-19 Emergency Fund was set up with an initial contribution of $10 million by India.
Subsequently, various SAARC nations, including the government of Bangladesh, has contributed to the fund.
msshova@gmai.com
talhabinhabib@yahoo.com
mirmostafiz@yahoo.com