---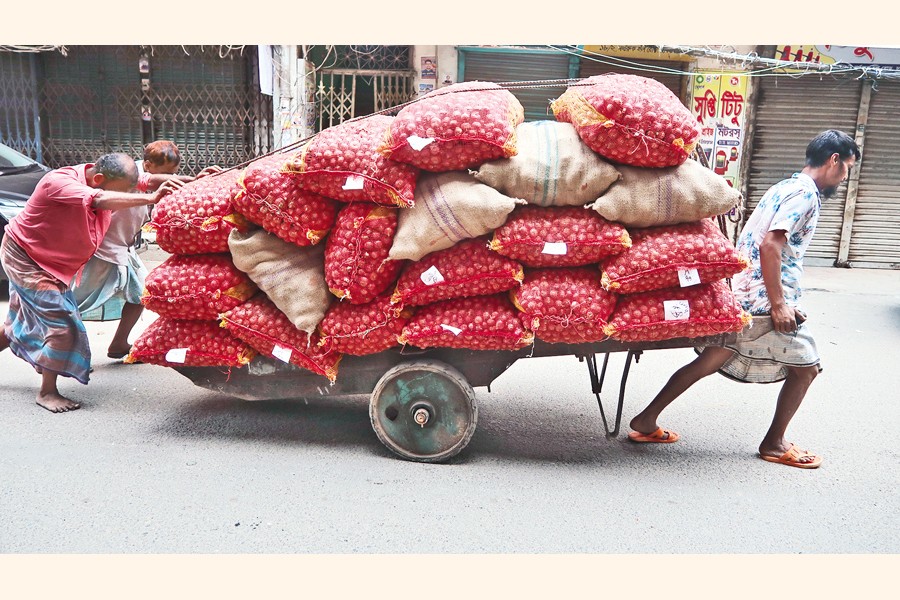 Three labourers are seen carrying sacks of onion on a push cart amid the scorching summer heat on Sunday in North Brook Hall Road area of old Dhaka — FE Photo by Shafiqul Alam
The government has finally allowed onion import as prices of the spice hit a two-year high of Tk 95-105 a kilogram amid market volatility.
The price marked a hike of Tk 10-15 a kg in just two days, according to a market report on Sunday morning.
Eventually, the agriculture ministry permitted the import of the essential item with effect from Monday, according to a press release issued on Sunday evening.
With the latest hike, onion prices have witnessed a surge by over 110 per cent in the last five weeks, according to the Trading Corporation of Bangladesh (TCB) and city groceries.
Jahir Rayhan, a grocer at Sher-e-Bangla Road in Hazaribagh, said the wholesale prices shot up to Tk 95-98 a kg at Beribadh-Rayerbazar wholesale market on Sunday morning.
He said Shyambazar wholesalers even sold onions at Tk 88-94 a kg on the day.
Narayan Chandra Saha, a spice trader at Shyambazar, told the FE that the government's delay in permitting onion import caused such a hike.
"Production has declined while big traders in Rajbari, Faridpur, Gopalganj and Pabna have stockpiled the spice to maximise profits," he said.
He also informed that many traders in Dhaka have stored onions and are releasing them at a slow pace.
Mr Saha said prices of onions might decline below Tk 70 per kg with the beginning of import.
The commerce ministry gave its consent last month for importing onions and sent a letter to the agriculture ministry to allow the imports.
Asked, additional secretary of the agriculture ministry Rabindra Sri Barua told the FE on Sunday that minister Dr Muhammad Abdur Razzaque has given consent for onion import due to its rocketing trend as well as to lessen sufferings of the limited-income consumers.
He said importers could start formalities from Monday to bring onion.
SM Nazer Hossain, vice president of the Consumers Association of Bangladesh (CAB), said only imports could bring equilibrium to the market for now.
"It is important as the Eid-ul-Azha is approaching when the demand soars three times," he said and lauded the ministry's decision to give the permission at last.
Mr Hossain also put emphasis on market monitoring of both the local and imported onions to ensure benefits of consumers.
According to the commerce ministry and the Bangladesh Bureau of Statistics (BBS), the demand for onions in Bangladesh is between 2.6 and 3.0 million tonnes annually against local production of 2.7 million tonnes.
The country imports 0.4-1.0 million tonnes annually, depending on local production and availability.