Over 1.0 million Bangladeshi workers got overseas jobs in 2017 which was the highest in the country's history, according to official statistics.
Earlier, the highest number of 875,055 workers secured overseas jobs in 2008. The country started sending workers in 1976 with 6,087 jobs, it showed.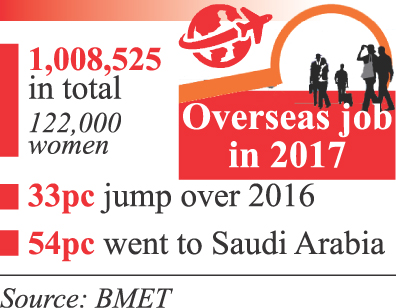 Migration rights campaigners, however, said it is a great achievement for the country's job sector. But the government is yet to ensure 'decent and safe' migration for the workers, they added.
Workers are still forced to bear high migration cost to obtain jobs abroad. Besides, many of them are not getting better jobs and they are returning home before their employment contracts expire.
So, the government should give more attention to these issues. Otherwise, such migration will not bring any fruitful impact on the country's overall economy.
Bureau of Manpower Employment and Training data showed that a total of 1,008,525 workers including 122,000 women went overseas with employment in 2017.
The growth of employment increased about 33 per cent in 2017 compared to that of the previous year. Some 757,731 workers secured jobs abroad in 2016.
The maximum number of workers totalling 551,308 went in Saudi Arabia, followed by 99,787 in Malaysia and 89,074 in Oman in the calendar year 2017, according to statistics.
Although Saudi Arabia recruited more than 54 per cent of the workers in 2017, about 90 per cent went there with individual or so-called free visas.
So, they are struggling to find jobs. Even though job market for such workers has shrunk in the oil-rich country, dishonest manpower recruiters hired them for their own benefits, sector insiders said.
However, an upward trend in migration put no positive impact on inward remittances.
Refugee and Migratory Movements Research Unit (RMMRU) in a report has recently projected that remittance may decline 0.81 per cent in 2017. Expatriate Bangladeshis sent US$ 13.51 billion in 2017. The amount of remittances was US$ 13.61 billion in 2016
Syed Saiful Haque, chairman of WARBE Development Foundation, hailed the government's such achievement saying that it is certainly a great success to send 1.0 million workers in a single year.
But at the same time it is also true that safe migration is yet to be ensured. A maximum number of workers went abroad with high migration cost. And they are engaged in hazardous jobs, he said.
He claimed that every year a large amount of money is being laundered in the name of migration cost.
"So, the government should give attention to these issues. If a worker comes back home empty-handed, it will create more burden on his family and society," he added.
Only safe migration can help boost the country's remittance and ensure overall development of the economy, the WARBE chair said,
A report of Transparency International Bangladesh (TIB) released in March last said a sum of Tk 52.34 billion was laundered from Bangladesh in 2016 to seven labour receiving countries especially Middle East in the form of buying visas for sending workers abroad.
Besides, at least 90 per cent of the total outbound male Bangladeshi workers were cheated in many ways, it also said.
When contacted, president of Bangladesh Association of International Recruiting Agencies (BAIRA) Benjir Ahmed said it is a big success for the country's overseas employment sector. It will help increase remittances.
"But we have to focus on skilled migration gradually to keep continuing the outflow of workers abroad," he said, adding that the demand for less-skilled workers is declining day by day.
Expatriates' Welfare and Overseas Employment Minister Nurul Islam said the uptrend in outbound jobs will continue in the coming days.
"Next year we will send more workers and the government is working on this issue," he said.
"But currently we are putting emphasis on skilled workers to ensure safe and quality migration," the minister also said.
To achieve the targets of Sustainable Development Goal (SDG), the ministry has taken different steps to make sure of safe, orderly and regular migration. They are also providing training to overseas jobseekers lagging behind source areas, Mr Islam added.
During the period between 1976 and 2017, more than 11 million workers went abroad from the country and of them, about 700,000 were women. Most of the workers are working in Middle East as less-skilled workers.