---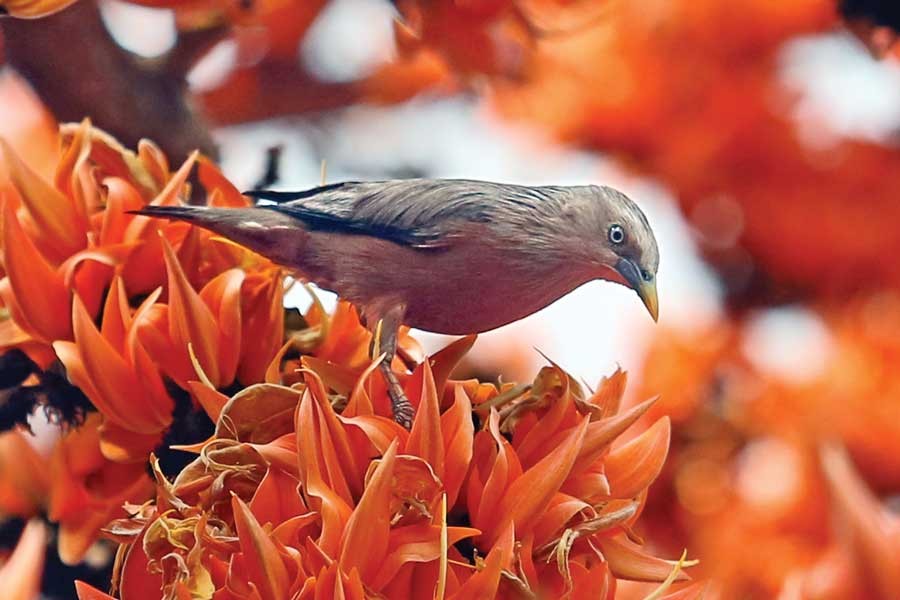 A bird sits on the petals of Palash flower to sip honey signaling the advent of spring. The photograph was taken from Dhaka University campus in the city on Thursday — FE photo by KAZ Sumon
The festival-loving Bangladeshi people are set to witness a more colourful and joyous day today (Friday) as this year both Pahela Falgun, the first day of spring, and the Valentine's Day will be celebrated on the weekend, reports UNB.
Falgun is the eleventh month in the Bengali calendar and the first month of the season, spring, the king of all the six seasons that brings back warm sunshine, budding flowers and dancing of birds.
Keeping pace with the rest of the world, some Bangladeshis also celebrate the Valentine's Day with their beloved ones.
There are various arrangements in the capital to welcome the spring. Different socio-cultural organisations will hold various programmes, including music festivals, on the Dhaka University campus throughout the day.
Marking the Valentine's Day, various restaurants in big cities of the country have arranged special offers. Different gift shops are also trying to boost their businesses on the occasion with varied range of gift items.
Both shopping malls and online business pages offered special gifts or matching clothes for their loved ones, while flower markets are busy stocking red roses for the day.
---
---
---
---