---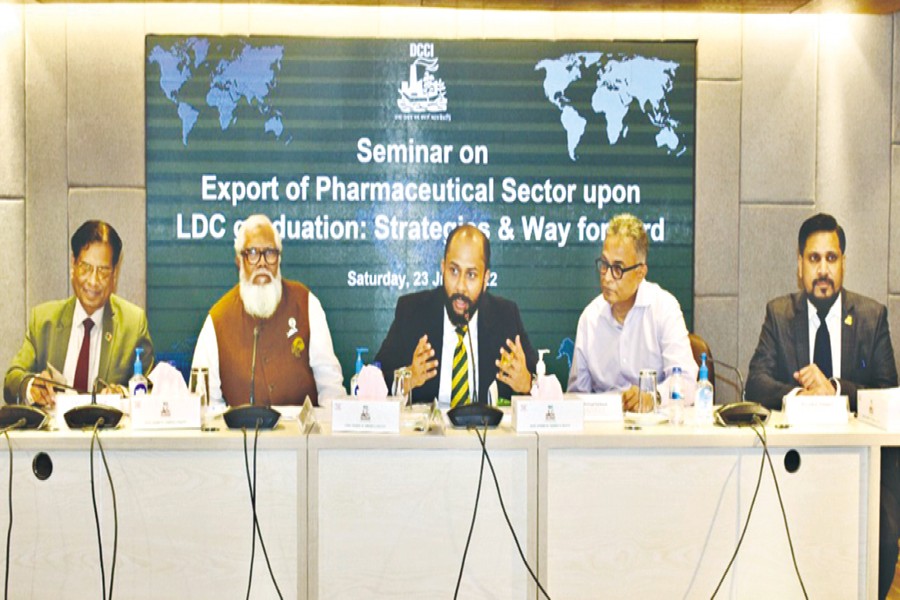 DCCI President Rizwan Rahman (middle) speaks as the chair of a seminar titled 'Export of pharmaceutical sector upon LDC graduation: Strategies and way forward' organised by DCCI in the capital on Saturday. Salman Fazlur Rahman (second from left), the private sector industry and investment adviser to the prime minister, was present as the chief guest and Dr Ahmad Kaikaus (fourth from left), principal secretary to the prime minister, was present as special guest Story on Page 1
Speakers at a seminar on Saturday said the country's pharmaceutical sector, which is meeting 98 per cent of its domestic demand, has the potential to become the next RMG in terms of export.
They, however, said there are some challenges that need attention in regard to right policy formulation at the right time.
They also underscored the need for keeping pace with global shifting of the sector and implementing the Active Pharmaceutical Ingredients (API) Park.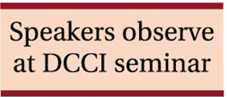 The speakers were addressing a seminar on 'Export of pharmaceutical sector upon LDC graduation: strategies and way forward' - organised by the Dhaka Chamber of Commerce & Industry (DCCI) at its office in the city.
Private Sector Industry and Investment Adviser to the Prime Minister Salman F Rahman was present at the seminar as the chief guest, with DCCI President Rizwan Rahman in the chair.
DCCI President Rizwan Rahman in his opening remarks said that after graduation, Bangladesh would face a higher tariff regime, ranging from 8.0 per cent to 15 per cent, in the export market which might decline export earnings by 14.28 per cent - equivalent to US$5.73 billion.
"Upon economic graduation, our IP exemption benefit will be reduced beyond 2026 having no import restrictions," he said.
Mr Rahman said the pharmaceutical sector might be affected by loss of IP waiver, resulting in decline of generic and patented drugs production and export share.
Alongside, the private sector is to be equipped and incentivised on IP adoption for business development, he said.
The DCCI president also requested the government to consider various policy reforms, including development of pharmaceutical research and development facilities and export market diversification.
PM's Adviser Salman F Rahman said that the country's achievement in the pharmaceutical sector was phenomenal and the secret of this success was the skilled human resource.
Technological advancement is taking place in this sector so the sector needs more research for more advancement, he said.
"But shifting to producing biological drugs will be a major challenge for us," he said, adding, "Some 16 out of top 20 bestselling medicines in the world are of biological drugs right at this moment."
"We are very much hopeful to enter into the US market and once we can have access to the US market, this image will help us as the best marketing tool."
He also said that the pharmaceutical sector should have the same facilities like the ones the RMG sector enjoys.
In the next four to five years, the pharmaceutical sector will be a $5 billion dollar industry, observed the PM's adviser.
Principal Secretary to the Prime Minister Dr Ahmad Kaikaus attended the seminar as a special guest.
Dr Kaikaus said LDC graduation would be an opportunity for the country despite challenges.
Consultation meetings involving various stakeholders can play an important role in identifying the challenges of this sector, he noted.
He said the recent crisis due to the Ukraine-Russia war was temporary and there was nothing to be worried about.
Professor Dr Mustafizur Rahman, Distinguished Fellow of the Centre for Policy Dialogue (CPD), in his keynote paper, said Bangladesh was heavily dependent on imports in terms of API.
The API Park having the facility of CETP should be operationalised as early as possible, he said.
To strengthen this sector before LDC graduation, Professor Rahman recommended investing in strong research and development, addressing shortages of skilled human resources, exploring opportunities of setting up joint ventures, and encouraging contract manufacturing.
AHM Shafiquzzaman, director general of the Directorate of National Consumers' Right Protection, M Mosaddek Hossain, managing director of UniMed UniHealth Pharmaceuticals Limited, and Professor ABM Faroque, director of the Biomedical Research Center of Dhaka University, also spoke on the occasion as panel discussants.
They put emphasis on faster implementation of API Park, long-term policy, value addition, more facilities like RMG sector, negotiation with WTO for extension of TRIPS agreement, updating the laws, and looking into ASEAN market.