---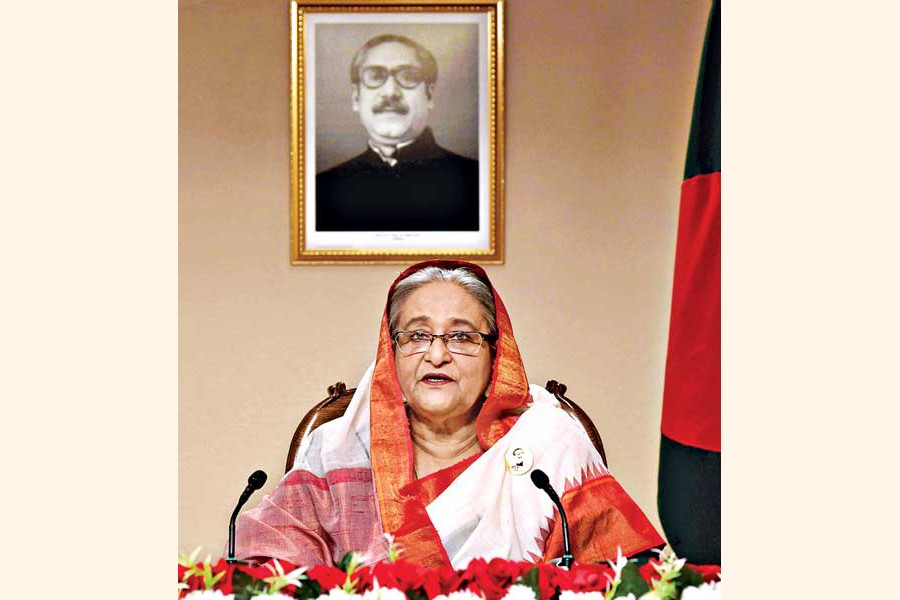 Prime Minister Sheikh Hasina addressing the nation on Wednesday — BSS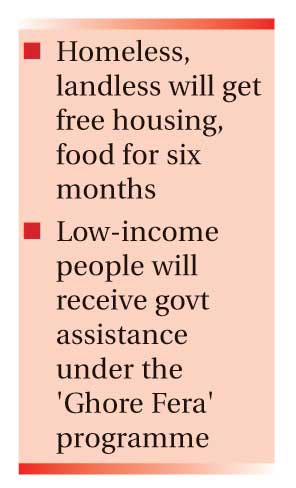 Prime Minister Sheikh Hasina on Wednesday termed the fight against coronavirus a "war" and urged people to stay home to discharge their responsibilities at this critical time, reports agencies.
"We won in 1971 against our enemy by standing shoulder to shoulder. Fighting coronavirus is also a war [and] in this war, your responsibility is to stay home. Inshallah, we'll win the war with everyone's efforts," she said.
The Prime Minister made the plea while addressing the nation in the evening on the occasion of the Independence and National Day 2020.
Shikh Hasina announced Tk 50 billion in virus fund to be used only for paying wages and allowances to the workers and other employees of export oriented industries.
"Our production and exports can be impacted. Therefore, we took some emergency measures," said Hasina.
Bangladesh Bank already took some business-friendly initiatives, including the decision not to declare any customer a loan defaulter until June, she said.
"Many people became unemployed because of the coronavirus epidemic. We need to stand beside them. Members of the lower income groups will receive assistance in their own villages under the programme 'Ghore Fera'. Homeless and landless people will get free housing, food for six months and cash incentive," Hasina said.
State-owned Bangladesh Betar and Bangladesh Television simultaneously broadcast the Prime Minister's address. Private television channels and radio stations also aired the Prime Minister's speech.
She asked the people of the country to strictly follow the health instructions to fight the coronavirus and avoid public gatherings.
Sheikh Hasina, in her over 23-minute speech, said right at the moment the highest priority for the government is to save people from the virus.
Bangladesh has so far confirmed 27 cases after testing 794 people. Five people have so far died while seven others recovered.
The Prime Minister said the World Health Organisation (WHO) has already declared the coronavirus crisis a pandemic and noted that the Independence Day will be observed in a different context due to the outbreak as the whole world is upset due to the spread of this virus.
"The rich or poor, developed or developing, small or big, all countries are more or less affected by this virus. Bangladesh is not free from this infection," she said, urging everyone to avoid arranging programmes that cause public gatherings.
Hasina said she is aware that people are passing their days in one kind of panic and worry. "I can understand their psychological condition, but in this crisis moment, we've to face the situation with patience and courage," she said.
Hasina called on the expatriates who returned from coronavirus-affected countries to thoroughly follow home-quarantine instructions. "Just stay separately for 14 days only, these instructions have to be followed to save your family, neighbours, people of the area, and above all the people of the country," she said.
The Prime Minister said although coronavirus can to spread quickly, it is not that much deadly, noting that most of the people affected by this virus get well within a few days but it becomes deadly for people with underlying medical conditions and the old. She urged everyone to pay the utmost attention to those of the family who are most vulnerable.
She said the low-income group will be provided assistance under the 'Return-Home' programme for the homeless and landless people as there will be homes free of cost, six months food and cash assistance for them . "District administrations have been directed along those lines."
The Prime Minister said VGD, VGF cards and rice for Tk 10 per kilogram will be continued with free medicine and treatment. "I'm urging the rich to come forward for the poor."
She mentioned that there might be a blow to industrial production and export, and mentioned that the government has taken some measures for this emergency period.
Hasina announced a Tk 50 billion incentive package for export-oriented industries and made it a point that this money will be used for providing the salaries and wages of workers and employees only.
Hasina mentioned that the timeframe for export earnings has been increased to six months from the existing two months. Likewise, the import payment breathing space has been increased to six months from four months.