---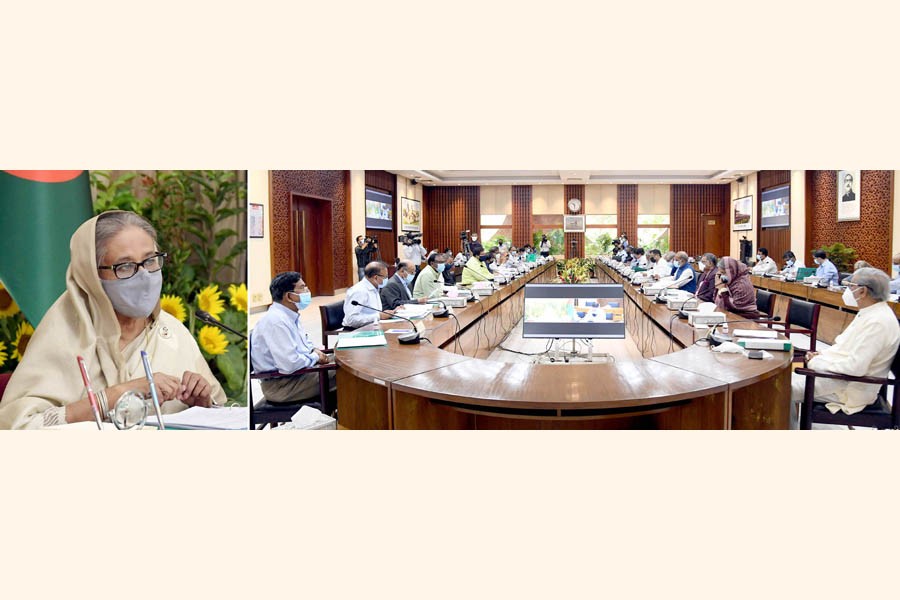 Prime Minister Sheikh Hasina virtually presiding over the 24th ECNEC meeting of the current fiscal year from her official residence Ganobhaban on Tuesday — PID Photo
Prime Minister Sheikh Hasina has asked public limited companies to 'earn and spend' on their own as the government would not provide further funds for their operation and development.
"The PM has asked public limited companies to become self-sufficient. The government has made them company, supplying them with capital. It's enough now. They have to earn and invest by themselves," said Planning Minister MA Mannan after the Executive Committee of the National Economic Council (ECNEC) meeting on Tuesday.
The prime minister had given the instructions to the public companies when a Tk 951.2 million project of Bangladesh Telecommunication Company Limited (BTCL) was placed before the ECNEC for getting approval.
"The project has been endorsed by the PM today. But she directed all the public limited companies to be self-sufficient and spend on their own for daily operation and development," Mr Mannan said while briefing journalists after the virtual ECNEC meeting.
Bangladesh has many public limited companies and corporations including BTCL, Biman Bangladesh Airlines, state-owned commercial banks, Teletalk Bangladesh Limited, Bangladesh Petroleum Corporation, Bangladesh Chemical Industries Corporation.
Presided over by PM Hasina, the ECNEC meeting approved 10 development projects at a combined cost of Tk 119.01 billion.
Out of the total funds, the government would provide Tk 89.91 billion from its internal resources, project executing agencies Tk 8.09 billion from their own incomes and development partners Tk 20.99 billion in project aid.
Mr Mannan said the PM was also unhappy over a delay in the Korea-funded ongoing "setting up of super-specialized hospital under the BSMMU project" as it was placed before the ECNEC for revision.
The ECNEC approved the revision and increased the cost by Tk 1.95 billion to Tk 15.61 billion to complete the project before the newly-set deadline of June 2022.
The hospital establishment project was undertaken in January 2016 at a cost of Tk 13.66 billion. The deadline for completing the project was December 2019. But the BSMMU authority had failed to complete the project in time.
Other projects approved by the ECNEC are: BTCL's establishment of telecommunication network in economic zones (1st phase) at Tk 951.2 million, Building Panguchi bridge over the River Panguchi on Signboard-Morelganj-Rayenda-Sharankhola-Bogi road at Tk 9.12 billion, Establishment of Sheikh Russel mini-stadium at upazila level at Tk 16.49 billion and Construction of multi-storey building for Directorate of Public Library project at Tk 5.24 billion.
It also endorsed road development from Karigori Para (Rangamati) to Bilaichhari and construction of bridges/culverts project at Tk 3.37 billion, rural infrastructure development in Cumilla, Brahmanbaria and Chandpur districts at Tk 25 billion, flood protection & irrigation of Patia upazila under Chattogram district at Tk 11.58 billion, expansion and rehabilitation of Komand under the Teesta irrigation project at Tk 14.52 billion and BPDB's electricity supply system modernization and upgrading project at Tk 30.76 billion.
Ministers, planning commission members and high officials from ministries concerned took part in the meeting.