Country's primary securities market seems to be drying up as it witnessed the lowest IPOs (initial public offerings) and also smallest amount of funds raised in 2017 since 2009.
According to information from Dhaka Stock Exchange (DSE), the amount of IPO funds declined 74 per cent this calendar year compared to previous year.
Only seven IPOs of six companies and one mutual fund (MF) were floated and a capital worth Tk 2.19 billion from the capital market in 2017.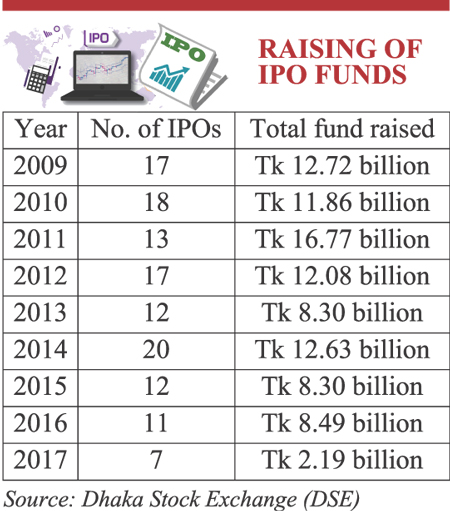 The IPO funds raised from the capital market had ranged from Tk 8.30 billion to Tk 16.77 billion annually during the period between 2009 and 2016.
The Bangladesh Securities and Exchange Commission (BSEC) blamed inefficiencies of the issue managers mainly for the lowest number of IPOs observed in 2017.
The issue managers contradicted, saying that slow approval process of the securities' regulator is one of the main reasons behind insufficient IPOs.
During the 2009-17 period, the capital market observed the highest number of IPOs in 2014 when 20 companies went public and raised a capital worth Tk 12.63 billion.
The highest IPO funds worth Tk 16.77 billion were raised by six companies and seven MFs in 2011.
Apart from this, 10 companies and seven MFs raised Tk 12.72 billion in 2009, six companies and 12 MFs raised Tk 11.86 billion in 2010, sixteen companies and one MFs raised Tk 12.08 billion in 2012, 10 companies and two MFs raised Tk 8.30 billion in 2013, nine companies and three MFs raised Tk 8.30 billion in 2015 and eight companies and three MFs raised Tk 8.49 billion in 2016.
Only six companies and one MF raised an aggregate amount of funds worth above Tk 2.19 billion in 2017.
A top BSEC official said the new public issue rules increased the number of requirements for issuer companies and many issue managers are also not able to handle IPOs with efficiency.
"Issue managers are also not providing efforts equally to bring IPOs in the market. The roles of exchanges and the Bangladesh Association of Publicly Listed Companies (BAPLC) also were not up to the mark to bring quality IPOs," the BSEC official said, explaining reasons for the slowdown.
Md. Moniruzzman, managing director of IDLC Investments, said many companies had to take time to submit revised IPO proposals following the changes brought in public issue rules.
The new public issue rules came into effect in December 2015.
As per the new public issue rules, a company seeking premium must go public under book-building and the companies willing to go public at par are required to go public under fixed-price method.
In June 2017 the securities' regulator brought another change in book-building method in case of conducting bidding process.
After enactment of new rules, the ACME Laboratories and aamra networks went public under book-building method.
Some issue managers said on anonymity that the market observed lowest number of IPOs in 2017 as the approval process went slow from the regulatory end.
Mohammad Saifur Rahman, a BSEC executive director, said the companies themselves take time to fulfil the deficiencies.
"We also find deficiencies in their deficiency letter. So, the regulatory approval for any IPO may be delayed if the company itself fails to fulfil deficiencies in due time," Rahman said.
He said it's not possible to give final approval for an IPO within any specific timeline if the deficiencies are not made up by the issuers timely.
Asked about the number of quality IPOs approved by the BSEC, Mr Rahman said a company could go public if it complies with the public-issue rules.
The securities regulator has so far issued licences to 58 merchant banks with a hope to rope IPOs in the capital market alongside conducting portfolio operation and underwriting.
According to DSE, some 24 of the merchant banks went nil, failing to net any IPO in last five years. Only seven to eight merchant banks are observed to have dealt with issue management.
Recently, the chairman of the securities regulator, Prof M Khairul Hossain, reportedly said the BSEC would take action against the merchant banks if they failed to bring IPOs in the capital market.
The chairman also said the BSEC wrote to merchant banks asking them to explain their inability to woo IPOs.