---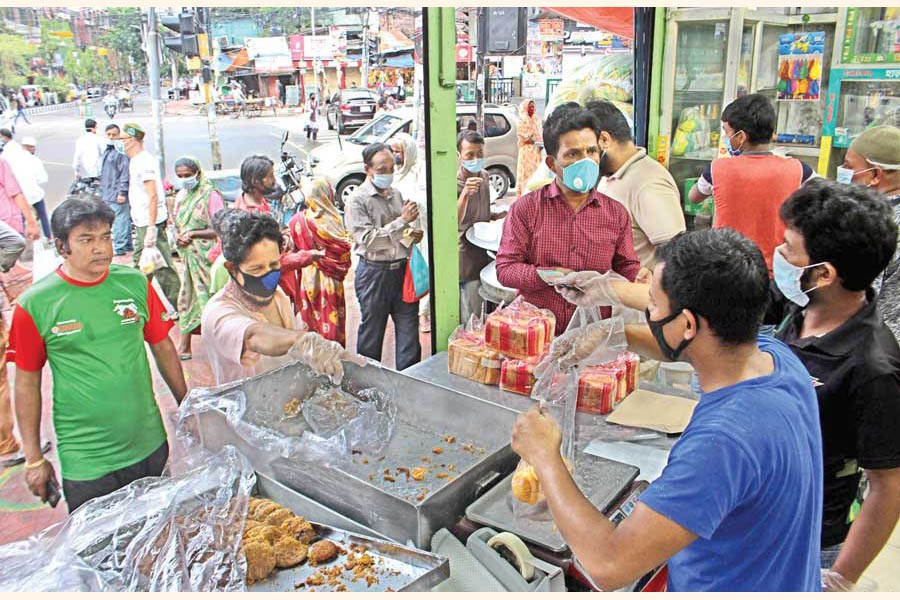 People buy iftar items from a food outlet at Baily Road in the city on Tuesday, as the Dhaka Metropolitan Police allowed restaurants to sell takeaway iftar items during the ongoing shutdown — Focus Bangla
Restaurants in the city reopened on Tuesday for selling takeaway iftar items amid thin presence of customers in the midst of soaring coronavirus infection cases.
Many of these restaurants and food shops opened their shutters after a month since the lockdown imposed on March 26 to curb spread of the lethal coronavirus.
The owners opened their restaurants after relaxation of the ongoing shutdown by the Dhaka Metropolitan Police (DMP) in the face of demand from customers as the fasting month of Ramadan has started.
The move came at a time when Bangladesh recorded highest number of coronavirus infections in a single day with 549 more cases and three new deaths on Tuesday.
The new cases took the total number of confirmed COVID-19 patients to 6,462 with 155 deaths across the country, according to the regular press briefing of Institute of Epidemiology, Disease Control and Research (IEDCR).
Visiting several spots, the FE correspondent found a number of restaurants displayed different food items at the entrance of their shops for the first time on the 4th day of Ramadan.
Food lovers wander around the city in groups to taste food of different varieties during Ramadan in the old part of the city and other hangout spots like Bailey Road, Khilgaon and Satmasjid Road.
Restaurants and fast food shops in most of the city areas are now closed for hangout but many of them started selling ifter items on the day.
Madhuban, a sweetmeat shop in the city's Rampura Bazar, prepared 16 items of iftar on the day on a small scale expecting a lower number of customers.
Manager of the shop, Hamidur Rahman, said, "Since the lockdown began, we have opened our shop only for a few hours to sell different sweetmeats despite poor demand."
Mentioning that they have been selling iftar items every year for the last 15 years, he said, "After hearing DMP's directives, we decided to sell some of the iftar items, quarter in amount, compared to the previous year."
Though there was minimal number of customers at around 5:00pm in front of the shop, salespersons hoped a slight increase in sales minutes before Iftar as people want their food warm.
Another restaurant, Al-Kaderia in East Rampura on DIT Road used to be packed with people during Iftar throughout Ramadan, but now offers only take-out option for its customers.
Aminul Islam, manager of the restaurant, said they are ready to serve customers with different iftar items with home delivery option via FoodPanda and Shohoz Food, two online food delivery platforms.
"We usually received 10 to 15 large scale orders for iftar party every day during Ramadan but this year no order has been placed so far," he informed.
A social organisation asked them for delivering leftover food items at lower prices for poor people after the end of their regular sale, he said, adding they would consider it if there is any item left.