The latest diesel-price hike would raise the readymade garment items' production cost by 5.0 per cent, thereby posing a headwind against the turnaround Bangladesh's main export industry is making with western markets rebounding.
Bangladesh Garment Manufacturers and Exporters Association (BGMEA) made the observations Saturday and urged the government to reconsider the raise in the fuel price that casts multiple impacts on the industry and transportation.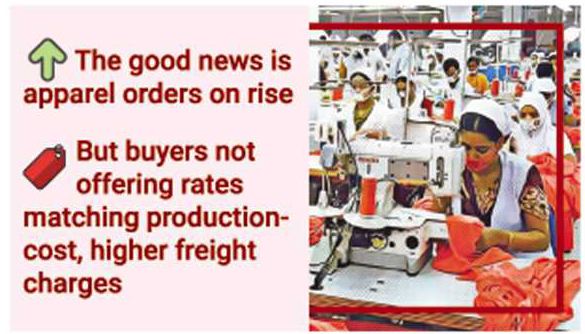 "Recently, the price of diesel has been enhanced by 23 per cent. In line with that transportation and cost of electricity production through generator will also go up while related raw materials and other services' cost have increased. All these factors will push up our production cost by 4.0 to 5.0 per cent," BGMEA president Faruque Hassan said.
During the last two years, due to the Covid-19 pandemic, fresh employment has hardly been created in the industry, he said, adding that ease of doing business and stable policy are needed to generate employment and attract investment.
Mr Hassan, while addressing a press conference at a city hotel, urged the government to review the raise in diesel price.
Though apparel-export-earning growth during recent months is good, he said, the industry has been passing through a challenging time. The RMG factories have yet to overcome the losses incurred during the invasive pandemic, he cited as an example of the downside.
To add up to the cost of production and shipment processing, yarn price has gone up by 60 per cent in a year while container charges jumped 350 to 500 per cent, coupled with a 40-per cent rise in dyes and chemicals, 13-per cent electricity cost, and 7.5-per cent wage hike.
Besides, another blowback is coming from the largest export destination, the European Union, with another wave of significant rise in Covid infection rate, the BGMEA president apprised the press. As a result, many European countries are announcing lockdown measures to curb the fourth wave of Covid.
Citing data, he said their (EU countries) retail sales are still 15-per cent lower compared to pre-pandemic level. "Undoubtedly, this is a big concern for us."
The apparel apex body is worried that if the normal activities are hampered over there again due to the rising infections, it might put the recovery of local apparel sector at a risk.
These odds aside, local exporters are getting more work orders while prices of apparel also increased in recent months. "And such opportunity does not come all the time," Mr Hassan said.
The backward-and forward-linkage industries also turned around in conjunction with the RMG sector's higher export earnings, he noted.
Reports say western stores had been emptied for supply-chain disruptions during the pandemic that had upended normal life and business, and now, with the reopening of economies, retailers are replenishing their stocks and increasing collection for winter and Christmas carnivals.
The BGMEA president requested the government to review the diesel price taking all these matters into consideration.
Though apparel items' prices increased, buyers are not offering as much as in line with the raw- material-price hike, he observed.
He also called on BGMEA-member factories to be cautious during product price fixation and not to negotiate prices below their regular production cost.
Global apparel buyers should offer fair price considering the price of raw materials, including cotton and yarn, and freight charges, the BGMEA chief said, with a clarion call: "We need buyers' support most in such a crisis moment, and the whole supply chain will sustain if suppliers survive."
At the conference, the BGMEA president briefed about his recent tour of the United Kingdom, Belgium and Scotland and the meetings and measures they took there to brand both the 'made-in-Bangladesh' clothing and the country.