India held runaway businessman PK Halder, a prime suspect in the siphoning off the biggest amount of money from Bangladesh, along with five other associates, including his brother.
Sources in Dhaka said Saturday the Enforcement Directorate (ED) of India ran them in Friday from Ashok Nagar area of 24 Parganas of West Bengal.
PK Halder, the former managing director and CEO at the privately-owned commercial bank NRB Global, is charged with misappropriations of more than Tk 35 billion, as per the Bangladesh Bank investigation, from as many as four non-bank financial institutions (NBFIs) and siphoning off the money to India, the USA, Canada, and Singapore.
But as per an investigation conducted by the Anti-Corruption Commission, which has filed several cases, the money embezzled may stand at more than Tk 100 billion.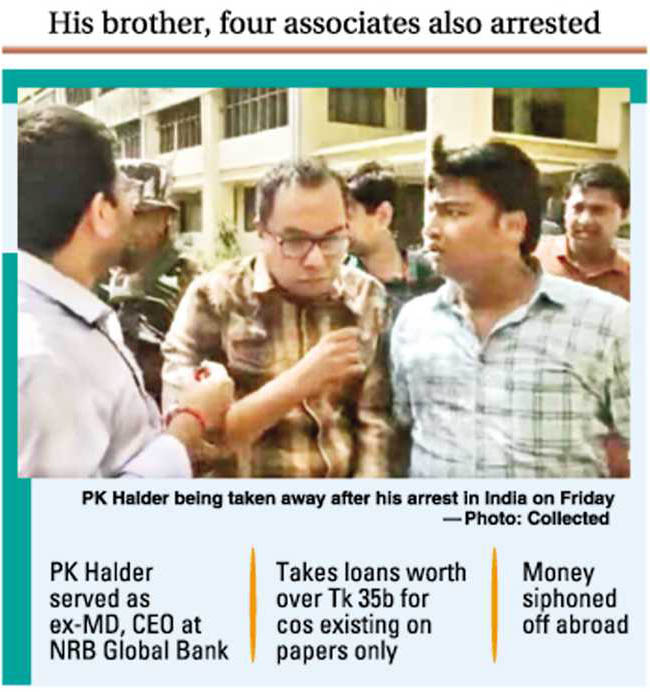 The Ill-gotten money was taken in loans from various institutions by companies that only exist on paper.
Realising that they had been cheated, they informed the financial intelligence unit of Bangladesh which subsequently approached the Indian government.
PK Halder or Proshanta Kumar Halder has been living in Bengal posing as an Indian citizen, reports say.
He had been hiding there in disguise as Shibshankar Halder and acquired many immovable properties there, including posh areas of Kolkata.
Earlier, the ED under the Revenue Department of the Ministry of Finance of India had raided more than 10 locations in North and South 24 Parganas of Bengal to nab him along with his minions upon requests from the ACC and the Financial Intelligence Unit of Bangladesh.
In the meantime, Ministers of Home Affairs Asaduzzaman Khan and Foreign Affairs AK Abdul Momen said that they would try their best for extradition of PK Halder "as quickly as possible".
But Indian media mentioned that the authorities concerned in India will quiz PK Halder and his associates.
The prime suspects in the prime scam on the country's monetary front are Bangladeshi nationals Proshanta Kumar Halder, Pritish Kumar Halder and Pranesh Kumar Halder, the ED said in a statement. All the suspects had "fraudulently obtained Indian citizenship papers".
"The money siphoned from Bangladesh was used for buying a huge quantity of land and property in Bengal and Kolkata," an ED official told an Indian media, seeking anonymity.
He procured a ration card issued by the Bengal government, an Indian voter ID card as well as PAN and Aadhar card, the ED statement says.
His associates also managed to get similar documents, the agency found during an investigation.
Earlier, the Anti-Corruption Commission filed the case on 8 January 2020 against PK Halder for allegedly acquiring illegal assets.
Mr Halder, hailed from Pirojpur district, was a business graduate who also served as managing director at Reliance Finance Limited, an NBFI in Bangladesh.
Commenting on the arrests, some people at the financial institutions told the FE that they were urging the government to extradite the "criminals quickly to boost people's confidence in the financial sector".
"We are urging the government of Bangladesh to arrange extradition of all criminals quickly to boost people's confidence about the financial market," said chairman of the FAS Finance and Investment Limited Md Nurul Amin.
Syed Abu Naser Bakhtiar Ahmed, former managing director and CEO of the state-owned Agrani Bank, told the FE that a thorough investigation is needed on the matter.
"He and his accomplices should be given maximum punishment so that none can dare such crimes in future."
In the meantime, a source at the BFIU told the FE that they have been seeking help of more countries as to whether PK Halder invested there.
"We are also seeking information about PK Halder in tax heavens", he said.
PK Halder owns at least 20 homes in West Bengal along with investments in New Delhi and Mumbai, according to Indian media reports.