---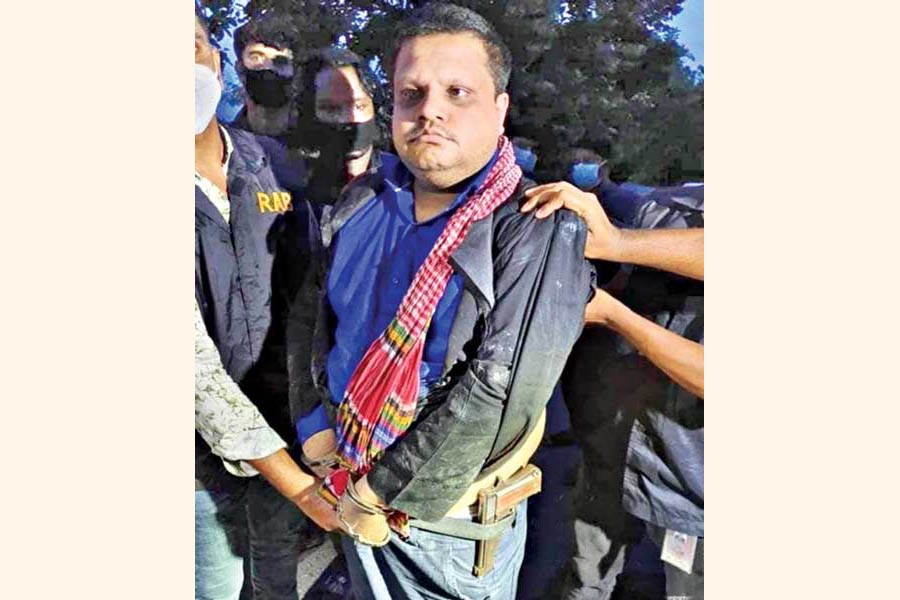 Mohammad Shahed arrested by RAB-6 from Satkhira on Wednesday — Focus Bangla
Controversial businessman Mohammad Shahed accused of selling fake coronavirus test reports was finally picked up by an elite police force on early Wednesday.
He was arrested by a team of Rapid Action Battalion-6 (RAB-6) from Debhata Upazila of Satkhira district at around 5:00am while trying to flee to India, according to police officials.
After the arrest, Shahed, chairman of Regent Hospital in the city's Uttara, was brought to the capital by a helicopter of the elite force that landed at the old airport in the city's Tejgaon area.
Later, Shahed, also known as Shahed Karim, owner of Regent Group, was taken to the RAB headquarters in the city's Uttara.
Wearing a burqua, shaving moustache, and dyeing gray hair to black, Mr Shahed was caught while preparing to enter the neighbouring India by crossing a river, RAB spokesperson Lt Col Ashik Billah said.
Later in the day, RAB raided a flat in the fourth floor of a building named CHL Baitul Aman in Sector 11 of Uttara, which is believed to be Shahed's secret office, where RAB recovered fake notes of Tk 500,000, he said.
Talking to the reporters at the RAB headquarters, director general (DG) of the elite force Chowdhury Abdullah Al-Mamun said the accused has been on the move since his absconding.
He travelled to Cumilla, Cox's Bazar and Satkhira districts during the last one week or so through his personal car, rented car and truck to avoid the arrest, he said, adding: "He even came to Dhaka several times in between."
In a briefing at Old Airport helipad in Tejgaon, additional director general of RAB Col Tofael Mostafa Sarwar said that they had been trying to trace Shahed for the last nine days but he was on the move all the time.
Tipped off by RAB's intelligence unit, local RAB-6 arrested Shahed at the last moment while he was trying to cross the river by a boat, he said.
He said Shahed was caught near the Labangabati River at Komorpara village in Debhata Upazila adjacent to the Indian border, after about nine days of his hideaway when allegations of fraudulence against him levelled.
The RAB senior official also said Shahed was trying to cross the border with help of some local brokers.
"RAB also recovered a loaded firearm from his possession," Mr Sarwar added.
Earlier on Tuesday, the elite force arrested managing director of Regent Hospital Masud Parvez from Gazipur.
Meanwhile, the Anti-Corruption Commission or ACC on Monday launched investigation into Shahed's alleged graft, forgery and fraudulence.
The commission is digging into plenty of allegations against the businessman including- misappropriating people's money collected through MLM (multi-level marketing) business, amassing government funds through forgery and fraudulence, dodging income tax, embezzling loans taken from banks using fake name and identity, etc.
Shahed had been on the run after the RAB raided the Mirpur and Uttara branches of Regent Hospital on July 6 on charge of issuing fake Covid-19 certificates and charging exorbitant fees from the admitted patients.
The Regent Group head office along with both the hospitals was sealed off and 16 people, including the chairman, were sued on charge of issuing fake coronavirus test reports.
RAB also filed a case in this connection alleging that the hospital authorities issued fake corona report to over 6,000 patients to earn around Tk 20.1 million while the hospital also sent a bill of Tk 19.6 million to the DGHS.
Besides, Directorate General of Health Services or DGHS also cancelled licences of both hospitals.
ahb_mcj2009@yahoo.com