---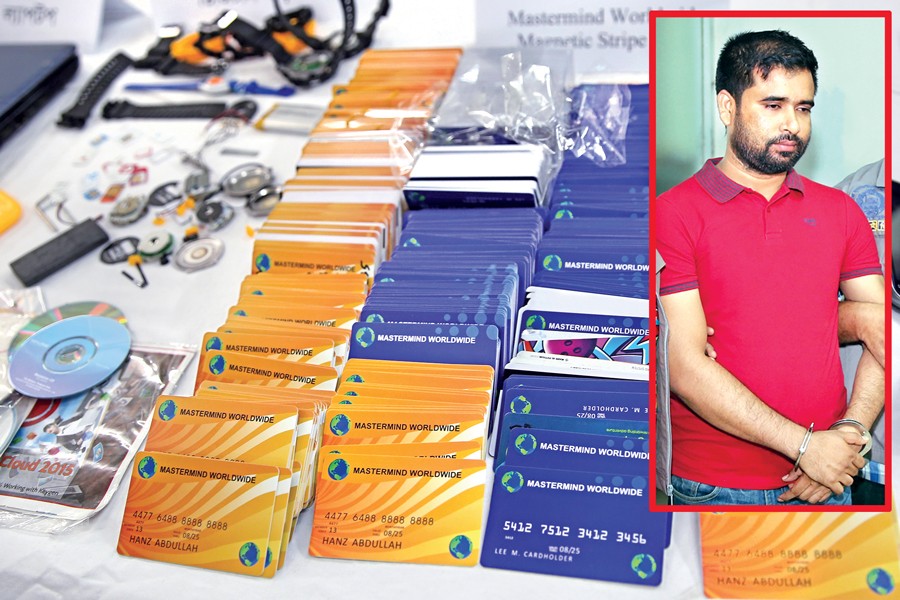 Counterfeit credit cards of different banks and Shariful Islam (inset) arrested by the police on Wednesday — FE photo
Shariful Islam, the main accused of recent ATM card scams, was placed a four-day remand Wednesday, a day after he was arrested from the city's Mirpur area.
A judge of Chief Metropolitan Magistrate Court granted the remand for further interrogation, after Shariful was produced before court by the policemen, officials said.
The 33-year old fraudster was arrested on Tuesday along with several thousands of clone ATM cards and other equipment including laptop, magnetic strip reader and wrist-watch used for scamming, officials of Criminal Investigation Department (CID) told reporters at a press conference in its office in Dhaka.
According to a statement issued by the CID, the ATM forgery mastermind worked for a retail outlet chain's Banani branch, where he used to steal customers' ATM card information with the help of a mini card reader hidden in his wrist-watch.
Later, he made clone ATM cards using the stolen information from customers with his technical capability staying at his home.
The statement also said Mr Shariful withdrew money from ATM booths wearing wigs and sunglasses to escape the surveillance system.
He led a luxurious life with the stolen money, the statement said, adding that the CID also came to learn that there were several crores of Taka in his bank account.
During CID's interrogation, Shariful admitted that he learnt such techniques from a room-mate in Russia, where he went to do his graduation. He started scamming ATM card after he returned to Bangladesh in 2010.
According to CID's investigation, two cases were filed against him in 2013 on the allegation of ATM card forgery. Consequently, he had to stay behind the bars for 18 months following the cases.
CID officials started the drive against ATM card forgery after several incidents.
In the second week of March, clients of five banks such as BRAC, City, EBL, UCBL and Bank Asia fell prey to ATM card forgery.