Global buyers are making fresh inquiries about clothing supplies for the next season as the crunch-stricken West begins gathering wits, in signs of rebound in orders from a downturn.
Readymade garment entrepreneurs of Bangladesh came up with such optimistic outlook of the global market for the country's main export industry, evidently amid latest developments on the world economic front following the G20 summit where supreme leaders of two superpowers--America and China--bumped fists in signs of a thaw in 'trade war'.
"Some factories are doing well as the placement of work orders has increased recently," Bangladesh Garment Manufacturers and Exporters Association (BGMEA) president Faruque Hassan told a press conference at a city hotel on Saturday.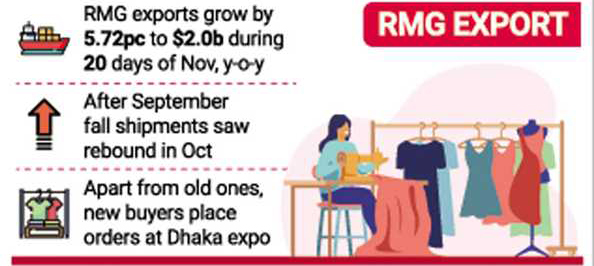 How long the latest trend would last largely depends on the Russia-Ukraine war, he adds, however.
The trade-body leader was addressing the press conference after the just-concluded 'Made in Bangladesh Week', which was visited by top executives from the apparel retailers like Puma and Inditex as well as new prospective buyers.
There were more than a dozen programmes at the weeklong branding event, including two exhibitions - Bangladesh Denim Expo and Dhaka Apparel show.
Other programmes included Dhaka Apparel Summit and the 37th International Apparel Federation (IAF) World Fashion Convention that took place simultaneously to showcase the strengths of local RMG industry and brands.
Mr Hassan also informed that the apparel exporters bagged some orders also from the new buyers during the event. He could not make available the volume of orders immediately.
Earlier at a press conference, he had informed that the industry was getting at least 20-percent less work orders beginning from July.
Apparel exports in September last declined by 7.52 per cent year on year, after over 16-percent and 36- percent growth in July and August respectively.
In October, the clothing exports again made a turnaround with a growth of 3.27 per cent, year on year. And the rebound sustains, so far, as shipments saw a 5.72-percent growth to US$2.0 billion during the first 20 days of November compared to the corresponding month of 2021, according to BGMEA data.
Mr Hassan also said that they were now focusing on non-traditional or potential markets, especially those in Asian countries, to reduce their large dependency on the European Union markets where demands for apparel items were hit hard by inflationary pressures and high oil prices, followed by the Russia-Ukraine war.
Since 2009, non-traditional markets beyond the EU, the US and Canada had accounted for 6.88 per cent of the total readymade garment exports that increased to 17 per cent three years ago-- and then again declined to 14 per cent recently.
"We are working to increase exports to those markets and also raise global market share despite the decrease in the world-market size," the BGMEA president told reporters.
He mentioned that the data published by the World Trade Organization (WTO) showed Bangladesh's global market share at 6.26 per cent in 2020 and expected it to reach 8.0 per cent in 2021 - data for the year have yet to be published.
Responding to a question, he said there is a 'massive improvement' in electricity supply in the recent days though they were still suffering from the gas crisis.
Replying to another question over restoration of the US generalised system of preferences (GSP), Mr Hassan said: "It depends on the US."
He, however, pointed out that exports to the USA increased significantly in recent years after the suspension of the facility in 2013.
Bangladesh apparel exports to the US reached over $7.0 billion recently while it was over $4.0 billion in 2013 that included only $30 million of exports under the GSP facility.