---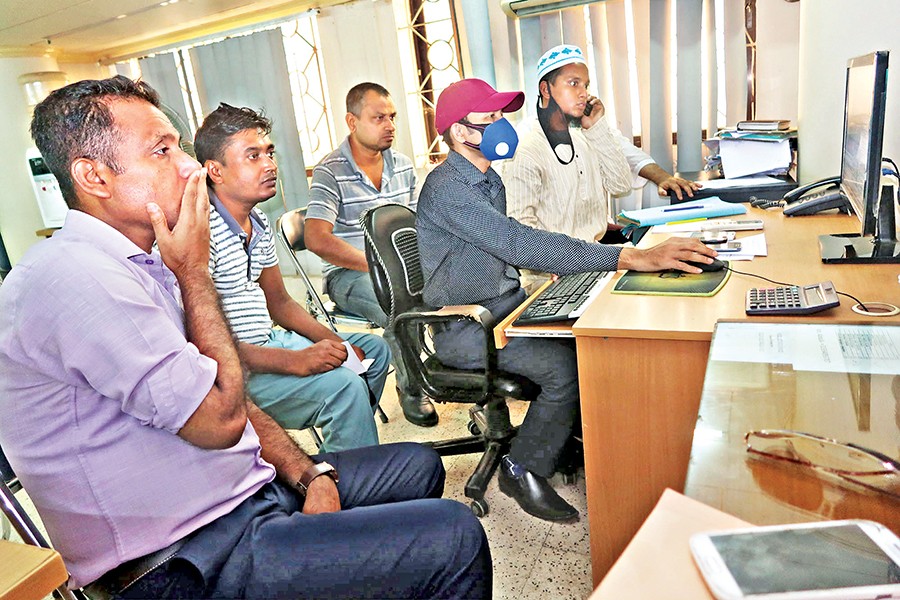 Investors stay glued to the screen at a brokerage house in the city on Sunday as the key index of Dhaka Stock Exchange soared — FE photo by Shafiqul Alam
Dhaka stocks saw the biggest single-day gain in five months on Sunday as investors went on buying binge on large-cap issues as hopes ran high.
DSEX, the key index of the Dhaka Stock Exchange, went up by 180 points or 4.13 per cent to settle at 4,545 during the four and a half hours trading session.
It has also been the biggest single-day gain of DSEX in more than five months since March 19 after the securities regulator imposed floor price to save the market from going down further.
The Bangladesh Securities and Exchange Commission introduced the floor price for all listed securities on March 18 last.

DSEX added more than 468 points or 11.5 per cent in the past 11 consecutive sessions amid strong buying pressure from retail and institutional investors.
Amid high expectations, market operators said spontaneous participation lured the investors to take position on the large-cap stocks, taking the core index above 4,500-mark once again after more than five months.
The stock market regulator's several initiatives to develop the market and punish wrongdoers, the gradual reopening of the economy and the expansionary monetary policy encouraged the investors to bet on stocks, said a merchant banker. The decline in bank deposit rates---maximum up to 6.0 per cent for time deposit--- is thought to be yet another reason for funds moving towards the stock market.
The rally has been largely powered by high market liquidity and fundamental stocks like telecom, banks, NBFIs and power sector issues.
The telecom sector posted the highest gain of 6.50 per cent, followed by power with 4.70 per cent, financial institutions 4.60 per cent and banking 4.40 per cent.
Turnover, another important indicator of the market, also crossed the Tk 11-billion-mark after more than one month and stood at Tk 11.28 billion on the country's prime bourse, which was 35 per cent higher than the previous day's turnover of Tk 8.36 billion.
It has also been the highest turnover since June 28 when turnover totalled Tk 25.43 billion riding on huge block trade of GSK Bangladesh.
Of the issues traded, 293 advanced, 42 declined and 20 issues remained unchanged on the DSE floor.