---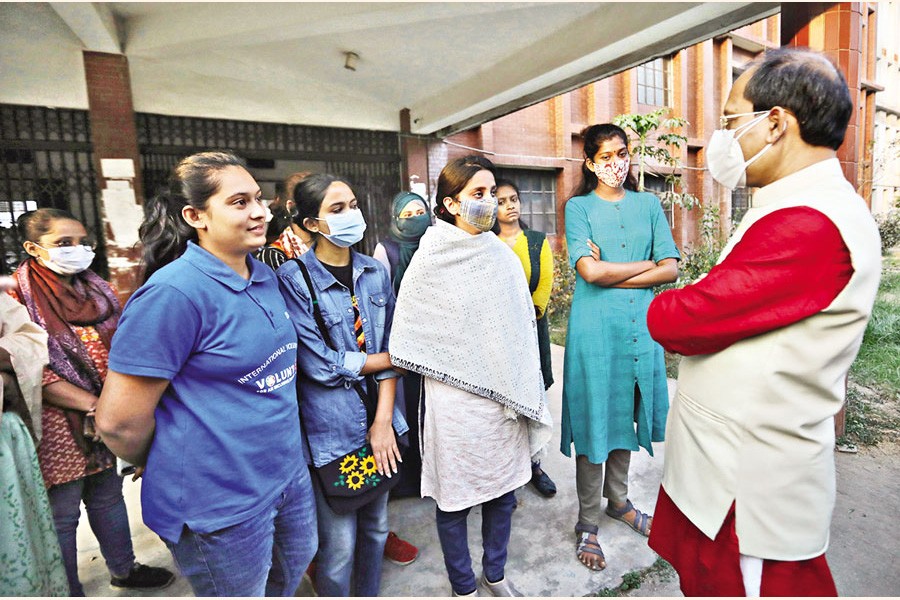 A representative of the Jahangirnagr University authorities talking to students on the premises of a dormitory on Monday, asking them to vacate the facility. On Saturday, the students forcibly entered the residential building defying the ban on staying at the hall during the Covid-19 pandemic — Collected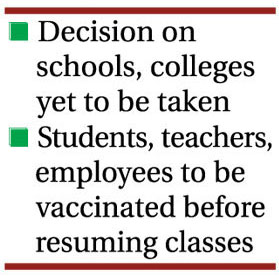 Classes in all the public and private universities will resume on May 24 and the residential halls will reopen on May 17, according to a government announcement on Monday.
However, the online classes will continue, but no examination will be held before reopening the universities, report agencies.
The declaration came amid students' demonstrations at different public universities across the country, including Dhaka University, Jahangirnagar University and Rajshhai University, demanding reopening of the universities and dormitories.
Earlier at the cabinet meeting on the day, Prime Minister Sheikh Hasina directed the Ministry of Education to review the situation before reopening educational institutions, report agencies.
Presiding over the meeting held at the Bangladesh Secretariat, she also urged the authorities concerned to ensure the vaccination of teachers and employees of the educational institutions.
"Now the educational institutions are open in European countries other than England. From this point of view, the Prime Minister instructed the education ministry to discuss and think whether we can reopen the educational institutions," said cabinet secretary Khandker Anwarul Islam after the meeting.
Announcing the schedule of reopening the universities, education minister Dipu Moni at a virtual press briefing said the students, teachers and staffers will be vaccinated against Covid-19 before reopening the universities.
She added that the decision on reopening the schools and colleges is yet to be taken.
She instructed the authorities concerned to take necessary measures so that the Covid-19 health guidelines are maintained after resumption of the classes.
Our DU Correspondent adds: Being informed about the announcement the residential students of Dhaka University (DU) left their halls where they entered by breaking the door locks on the same day.
Another group of students gathered in front of Raju Sculpture of the campus and protested for reopening the residential halls.
Residential students of Dr Muhammad Shahidullah Hall and Amar Ekushey Hall entered their dormitories after breaking the locks of the hall gates.
The government shut all the schools and educational institutions on March 17 last year after the country confirmed its first Covid-19 cases on March 8.
The closure was extended several times, most recently until February 28 this year, to protect the students from the virus infections.
Online classes are going on at different educational institutions.
Besides, the Covid-19 situation has been improving in Bangladesh steadily in recent weeks. Meanwhile, a countrywide vaccination drive was launched on Feb 7.
On May 12, 2020, the World Health Organization (WHO) advised governments that before reopening, the rates of positivity in testing should remain at 5 per cent or lower for at least 14 days.