A US-Bangla aircraft carrying 71 passengers crashed on Monday while landing at the airport in the Nepalese capital of Kathmandu, killing at least 50 people aboard, officials said.
Aviation analysts and industry insiders feared the crash would deliver a big blow to Bangladesh's growing aviation industry.
The crash occurred at a time when Bangladesh's private airlines industry is booming driven by a thriving middle class and corporate executives.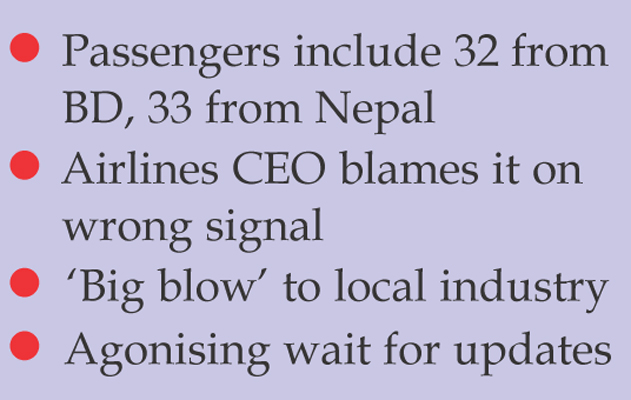 The US-Bangla Airlines plane clipped the fence at Kathmandu and burst into flames, said Raj Kumar Chettri, the general manager of the hill-ringed airport, according to a Reuters report.
In Dhaka, US-Bangla Airlines CEO Imran Asif told reporters 'wrong signals' from the air traffic control tower at Tribhuvan International Airport might have led to the crash of its plane.
Asif also said a conversation between the pilot, Abid Sultan, and the air traffic control or ATC of the airport indicated the ATC sent 'wrong signals' to the pilot.
"We are not accusing anyone now. We suspect it might have led to the crash."
He also said the conversation was available on YouTube, and urged the media to hear and determine what happened before the crash.
Those aboard included 33 Nepali passengers, 32 from Bangladesh, one from China and one from the Maldives.
"All of a sudden the plane shook violently and there was a loud bang," one of the survivors, Basanta Bohora, told the Kathmandu Post daily. "I was seated near a window and was able to break out of the window."
The accident was the latest to hit mountainous Nepal, which has a poor record of air safety. Small aircraft ply an extensive domestic network and often run into trouble at remote airstrips.
"We have recovered 50 dead bodies so far," said army spokesman Gokul Bhandari. Although several people had been rescued from the burning wreckage of the Bombardier Q400 series aircraft, nine people were still unaccounted for, he added.
Chettri said that moments after the plane received permission to land, the pilot said he wanted to go in a northern direction. Asked by the control tower if there was a problem, he replied in the negative.
The plane was then seen making two rounds in a northeast direction, Chettri said. Traffic controllers again asked the pilot if things were OK, and he replied, "Yes".
The tower then told the pilot his alignment was not correct, but there was no reply, Chettri added.
"The plane should have come from the right direction," Chettri said, adding that it hit the airport fence, touched the ground and then caught fire.
It was not immediately clear if the pilot had issued a "Mayday" call, or distress signal.
Many of the bodies that lay on the tarmac, covered with cloth, were charred, witnesses said. Thick plumes of smoke could be seen from the aircraft at the Tribhuvan International Airport.
The aircraft that went down on Monday was 17 years old, data from tracking website Flightradar24.com showed. It descended to an airport altitude of 4,400 feet (1,341 m) and then climbed to 6,600 feet (2,012 m) before crashing about two minutes later, the website said.
Bombardier said on Twitter it was saddened by the accident.
"Our thoughts are with those injured, and their families," it said. "More information to follow."
There have been a series of accidents at Kathmandu in the past.
In March 2014, a flock of birds shattered the windshield of a Malaysia Airlines jet as it landed in Kathmandu.
The same month, a rear wheel of an Airbus A320 operated by an Indian budget airline caught fire after landing.
In 1992, all 167 people aboard were killed when a Thai Airways flight from Bangkok crashed while trying to land in Kathmandu.
Meanwhile, State Minister for Foreign Affairs Shahriar Alam in Dhaka told reporters a special aircraft with doctors would be sent to Kathmandu, pending Nepal authority's permission.
Mr Alam said 41 passengers died, 10 remained missing while 20 were injured who were admitted to hospital.
Of the injured, four people were discharged from the hospital, he said.
While this is simply an accident, aviation analysts likened it to "a big disaster" for the local aviation industry.
"This is a big setback," said Kazi Wahidul Alam, an aviation industry consultant and editor of the fortnightly Bangladesh Monitor. "There were no such casualties in the country's airlines history."
Similar reaction came from the industry lobbyist group.
"People are panicked. They will now think about travelling even by train," Manzur Morshed Mahbub, president of the Association of Travel Agents of Bangladesh or ATAB, told the FE.
The latest air accident would leave a large-scale negative impact on the aviation and tourism industry, Mahbub said.
Wahidul Alam, however, said there would be initial setback as far as travellers' trust is concerned, but the private airlines industry would bounce back since "airlines have become essential part of life."
US-Bangla spokesperson Kamrul Islam told the FE an airlines team was supposed to fly to Kathmandu to assess the situation but the plan was dropped as the runway of the Tribhuvan International Airport was closed.
He said all injured people were admitted to hospitals in Kathmandu.
"We're trying to contact them," he added.
Private airlines industry started life in the country in the early 1990s and has picked up momentum since 2010, despite occasional hiccups.
Launched in July 2015, US-Bangla expanded rapidly, now flying to all domestic air routes.
The private carrier also travels to eight international destinations including Nepal and India in the region.
Other destinations of the private airliner are Muscat, Oman, Kolkata, India, Kuala Lumpur, Malaysia, Singapore, Bangkok, Thailand, Doha, Qatar and Guangzhou, China.
Bangladesh's Tk 20 billion (20,000 crore) aviation industry has been growing at 20 per cent a year.
US-Bangla Airlines is a unit of the US-Bangla Group, a US Bangladeshi joint venture company.
Including US-Bangla, three private airlines are in operations in Bangladesh.
Regent and Novo are the two other private players, while state-run Biman Bangladesh Airlines is the national flag carrier.