---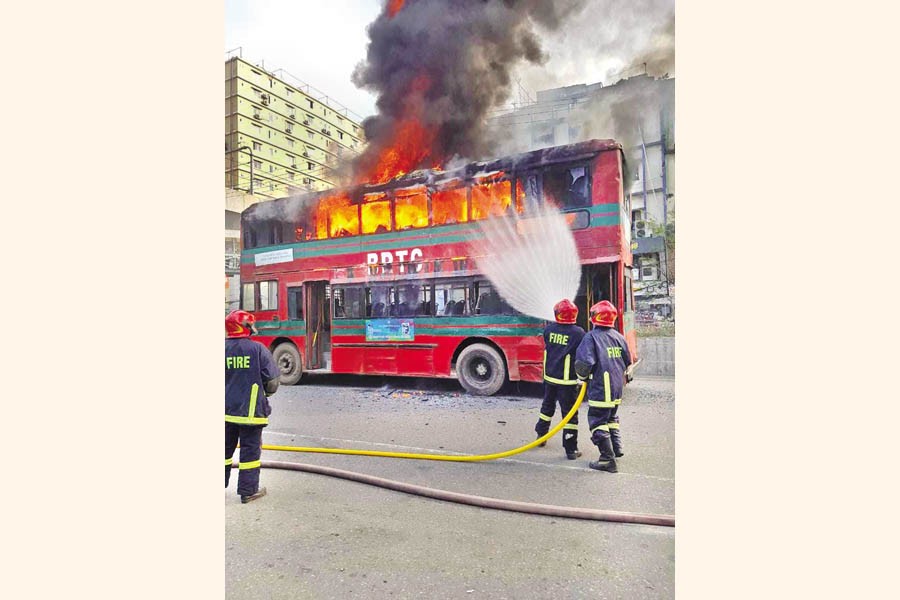 vFirefighters in Dhaka extinguishing a blaze that engulfed a double-decker bus on Monday. The state-owned transport corporation vehicle was torched at Mirpur-10 intersection during the second day of a 48-hour hartal called by opposition parties. — Photo: Collected
The BNP-led opposition camps have announced their sixth round of countrywide blockade in a bid to realise their demands centring on the upcoming general election.
The blockade programme will begin at 6:00 am on Wednesday and continue until 6:00 am on Friday.
Their demands include cancellation of election schedule, immediate resignation of the government and the holding of polls under an interim neutral administration.
Senior joint secretary general of the Bangladesh Nationalist Party (BNP), Ruhul Kabir Rizvi, declared the fresh programme during a virtual press briefing on Monday.
The BNP and other like-mind earlier set up blockades across the country for a total of 11 days in five phases.
In addition to blockade programmes, they also observed another round of 48-hour hartal from 6:00 am on Sunday to 6:00 am on Tuesday.
According to fire service department, miscreants torched 20 vehicles during the countrywide hartal.
Meanwhile, two buses were set on fire in the capital on the second day of the general strike.
A BRTC bus near Mirpur-10 roundabout was set ablaze by the miscreants, while a staff bus of Bangladesh Bank near Modhumita Cinema Hall in the capital.
A fire service and civil defence official told the FE that they received information about the arson attack on the staff bus around 2:35 pm.
Two units of firefighters rushed to the spot and doused the flame. However, there was no report of any casualty.
In addition to Dhaka's, according to the official, vehicles were torched in Natore, Bogura, Sirajganj, Feni, Chattogram and Jamalpur districts.
In another development, Jatiyatabadi Chhatra Dal of Jagannath University brought out a procession at Dayaganj at 7:00 am on Monday.
They warned of paralysing the country if the government tries to hold another farcical election as it staged similar polls in 2014 and 2018.
The protesters said Chhatra Dal would not accept the election schedule announced by the Chief Election Commissioner on November 15.
In another development, Liberal Democratic Party (LDP) president Col (retd) Oli Ahmad called upon the countrymen to make the next blockade a success.
"You (people) observe blockade. Show no confidence against the government and join our programme to realise the opponents' demands," he said.