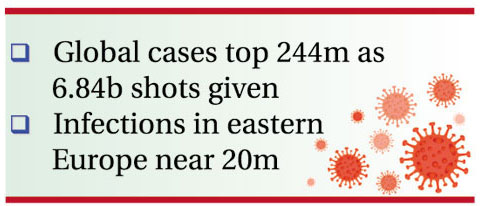 China has given complete doses of COVID-19 vaccines to about 75.6 per cent of its population as of Oct 23, National Health Commission spokesperson Mi Feng said on Sunday, report agencies.
Some 1.068 billion people have now been inoculated with the required dosages, out of a population of 1.412 billion, Mi told a news briefing.
The country administered 2.245 billion doses of COVID-19 vaccines as of Saturday, official data showed.
China is giving booster shots to adults whose last dose was at least six months earlier, with priority groups including essential workers, older people and those with weaker immune systems.
Data showed antibodies elicited by vaccines, including the most-used shots from Sinovac and Sinopharm, declined within months.
Wang Huaqing, chief expert for the immunisation programme at the Chinese Center for Disease Control and Prevention, said China would not keep giving people booster shots after booster shots.
Meanwhile, coronavirus cases in eastern Europe will soon surpass 20 million, according to a Reuters tally on Sunday, as the region grapples with its worst outbreak since the pandemic started and inoculation efforts lag.
Countries in the region have the lowest vaccination rates in Europe, with less than half of the population having received a single dose.
Hungary tops the region's vaccination rates with 62 per cent of its population having gotten at least one shot, whereas Ukraine has given just 19 per cent of its residents a single dose, according to Our World in Data.
New infections in the region have steadily risen and now average over 83,700 new cases per day, the highest level since November last year, Reuters data through Friday showed. Although it has just 4 per cent of the world's population, eastern Europe accounts for roughly 20 per cent of all new cases reported globally.
According to a Reuters analysis, three of the top five countries reporting the most deaths in the world are in eastern Europe - Russia, Ukraine and Romania.
More social gathering indoors after the lifting of restrictions just as winter sets in is driving a rise in COVID-19 infections in many countries across Europe, the World Health Organization's emergency director Mike Ryan said on Thursday.
Another report adds: The number of overall Covid cases has crossed 244 million with the global race to vaccinate masses against the infectious disease.
The global Covid fatality figure and the total case count stand at 4,961,719 and 244,226,193, respectively, as of Sunday morning, according to Worldometers tally.
More than 6.84 billion doses have been administered across 184 countries, according to data collected by Bloomberg. The latest rate was roughly 29.3 million doses a day.
The US has logged 45,427,365 cases and 735,800 deaths to date, according to the university data. The death toll in the United States is the highest in the world.
Brazil, which has been experiencing a new wave of cases since January, registered 21,723,559 cases as of Sunday, while its Covid death toll has risen to 605,457.
India's COVID-19 tally rose to 34,159,562 on Saturday as 16,326 new cases were registered during the past 24 hours across the country, showed the federal health ministry's latest data.
Besides, as many as 666 deaths due to the pandemic since Friday morning took the total death toll to 453,708.
Meanwhile, Russia has reported a record high number of coronavirus infections and COVID-19 deaths as the country approaches a week of nonworking days aimed at stemming the sharp surge in cases.
Russia has reported 37,678 COVID-19 infections over the past 24 hours, the highest daily count, taking the national tally to 8,205,983, the official monitoring and response center said Saturday.
The nationwide death toll from the novel coronavirus grew by 1,075, a record high since the pandemic hit the country, to 229,528. Recoveries increased by 26,077 to 7,143,137.