---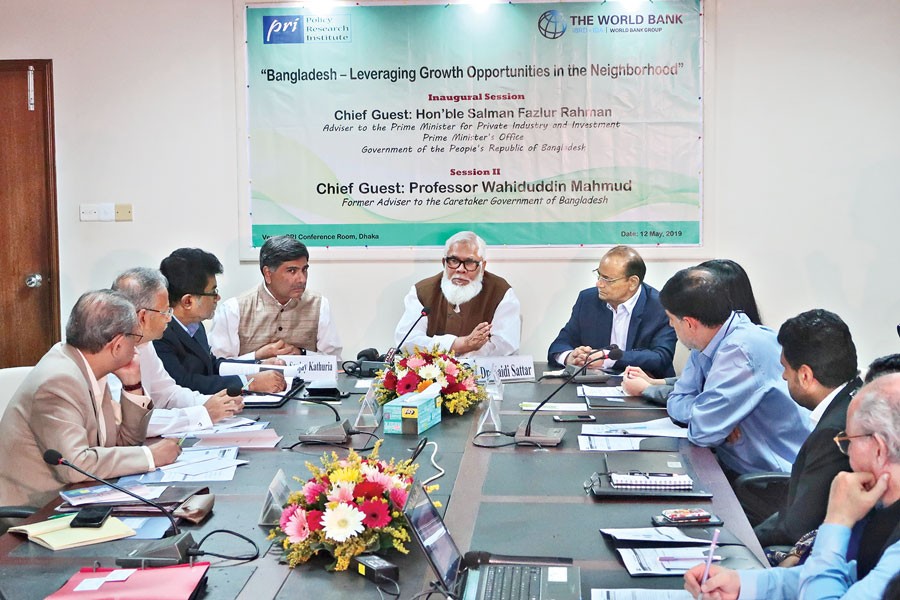 Prime Minister's Adviser for Private Industry and Investment Salman F Rahman speaking at the inaugural session of the Policy Research Institute of Bangladesh (PRI) conference on 'Bangladesh — Leveraging Growth Opportunities in the Neighbourhood' at the PRI office in the city on Sunday — FE photo
All export-oriented sectors will get incentive benefits, similar to ready-made garments (RMG), from the next financial year (FY), 2019-20, to ensure diversification in the country's exports, Prime Minister's (PM) Private Industry and Investment Adviser Salman F Rahman said on Sunday.
"All the incentives, provided to garments sector, will now be given to all exports, irrespectively. The decision to give equal incentives to all exports will be reflected from the next budget," he said while speaking at a programme.
The Policy Research Institute of Bangladesh (PRI) and the World Bank (WB) jointly organised the dissemination workshop titled 'Bangladesh - Leveraging Growth Opportunities in the Neighbourhood' at PRI office in the city.
Speaking as the chief guest at its inaugural session, Salman F Rahman said it is a structural weakness that the country's export is heavily dependent on RMG.
"We have to diversify our exports, and we are addressing the issue persistently."
The adviser said exporters often complain that they do not get incentives they deserve.
"We have addressed the issue. All exporters will get their due facilities."
Some sectors, including leather and leather goods, furniture and pharmaceuticals etc, will see significant export growth within the next two years following new incentives, Mr Rahman opined.
He further said Bangladesh's position in the ease of doing business index will come down to 125 from the present 176. The government has taken due steps in this regard.
Citing examples of the US-China trade war, the adviser said imposing tariff on trade is not a good idea.
"We should get rid of all tariff and non-tariff barriers," he added.
Former caretaker government adviser Dr Wahiduddin Mahmud said the National Board of Revenue (NBR) rules should not be changed every year.
There should be the same tax structure for at least five years, so that there is predictability.
He said changing tariff rates every year is actually correcting anomalies in the tax structure, which were created in the previous year.
Mr Mahmud added that the north-eastern region of India is so different from Bangladesh that both the parts can complement each other.
Speaking at the inaugural session, Dr Zaidi Sattar, the PRI Chairman, said high growth of the country's economy is a call for greater trade openness for Bangladesh to integrate with the world economy.
He said anti-export bias of trade policy will have to be minimised in order to ensure traction in export diversification with robust export growth in both RMG and non-RMG exports.
Mr Sattar said modernising and mainstreaming trade policy is now a national imperative.
"Growth acceleration through trade integration is the only way forward," he added.
Presenting a paper, Sanjay Kathuria, lead economist and coordinator at regional integration, macro-economics, trade and investment global practice of the WB, said the Bangladesh Bank should eliminate restrictions on outward foreign direct investment by Bangladeshi companies.
He said it is not always necessary that politics will drive economy, but economy may also drive politics.
Ahsan Khan Chowdhury, CEO of the Pran Group, said various dimensions of connectivity between Bangladesh and India's north-eastern region will help both the regions to thrive.
He said if Bangladeshi exporters want to be competitive, at first they should try to reach the Indian market, which is very competitive.
Dandan Chen, Acting Country Director of the WB, Asif Ibrahim, director of the Bangladesh Garment Manufacturers and Exporters Association (BGMEA), Nihad Kabir, President of the Metropolitan Chamber of Commerce and Industry, Dhaka (MCCI), and Kamran T Rahman, President of the Bangladesh Employers Federation (BEF), among others, also spoke at the programme.