---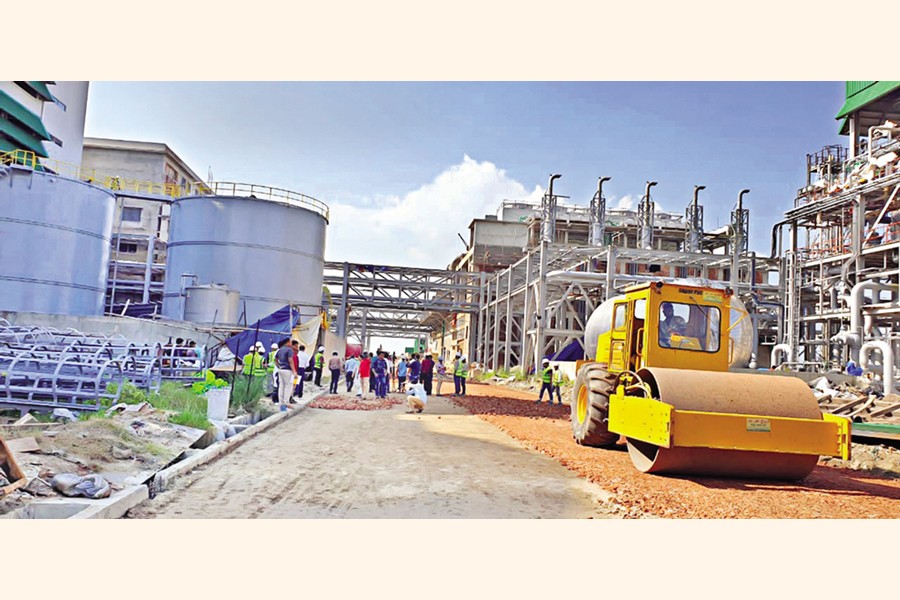 Five industrial units are now in operation in Mirsarai Economic Zone in Chattogram, while 22 more are under construction. — FE Photo
With all facilities readied for the setting up of factories, the authority of the Mirsarai Economic Zone is expecting an 'investment shower' soon in the industrial district, which spans 33,800 acres of land.
The EZ has been established with a target of producing and exporting goods worth $25 billion and generating 1.4 million jobs by attracting both foreign and local investments as various tax-exemption facilities are offered there for investors.
Currently, five industrial units are in commercial operations in the EZ, while 22 are under construction.
Speaking to a group of journalists at Mirsarai EZ, which was later renamed Bangabandhu Sheikh Mujib Shilpa Nagar (BSMSN), Project Director Abdullah Al Mahmud Faruk said investors will get a 100-percent income-tax waiver for the first three years, followed by an 80 to 20-percent waiver from the fourth to tenth years.
Also, he said that there will be no tax on dividends, capital gains, royalty, or technology know-how for ten years. Besides, there will be an exemption of value-added tax (VAT) on gas, electricity and water, no tax on the income of foreign workers for three years, and duty-free import of capital machinery and construction materials.
He said investments will further enjoy bond facilities, such as duty-free import and export of raw materials, a separate customs procedure, no limit on telephonic transfers, 100 per cent of profits allowed for repatriation and 100 per cent repatriation in case of disinvestment.
"We invite both local and foreign investors to come with investments and enjoy the facilities," said Mr Faruk.
Marico Bangladesh Ltd has set up a factory in the EZ and started commercial production this July with a total investment plan of Tk 2.20 billion across different phases.
Rashed Bin Ehshan, a director of the company, said they are currently producing value-added hair oil in the factory, where employment opportunities were created for 50 people residing in the vicinity of the economic zone.
Modern Syntex Ltd has set up a continuous polymerization plant (CP Plant) with a total investment of Tk 15.50 billion, which will soon start production, creating employment for some 1,200 people.
The factory will produce polyester-drawn textured yarn, polyester fully-drawn yarn, polyester staple fibre, and PET chips (textile grade).
Samuda Construction Limited, a concern of TK Group, has an investment plan of a total of $9.1 million to set up a PHC Pile manufacturing factory in the EZ. This product serves as a substitute for imports, mainly imported from China and Malaysia.
Mustafizur Rahman, a director at TK Group, said the factory began commercial production in August of last year and has an annual production capacity of 324,000 pieces of PHC Pile.
Bangladesh Auto Industries Ltd is in the process of setting up the first-of-its-kind electric vehicle factory in the EZ, with a plan to make pollution-free cars available at an affordable price.
A Mannan Khan, chairman of Bangladesh Auto Industries Ltd, anticipates that the factory will go into commercial operations this December.
Abdul Quader Khan, a social consultant at the Bangladesh Economic Zones Authority, said the EZ has brought changes to the living standards of local people as employment opportunities have been created.
Moreover, he said, due to the setting up of the EZ, local land prices have increased several hundredfold now.
Mr Khan said that apart from road connectivity to the Chittagong port, a jetty is currently under construction, where up to 8.0-metre draft vessels will be able to take berth, facilitating the transportation of products from the EPZ.