---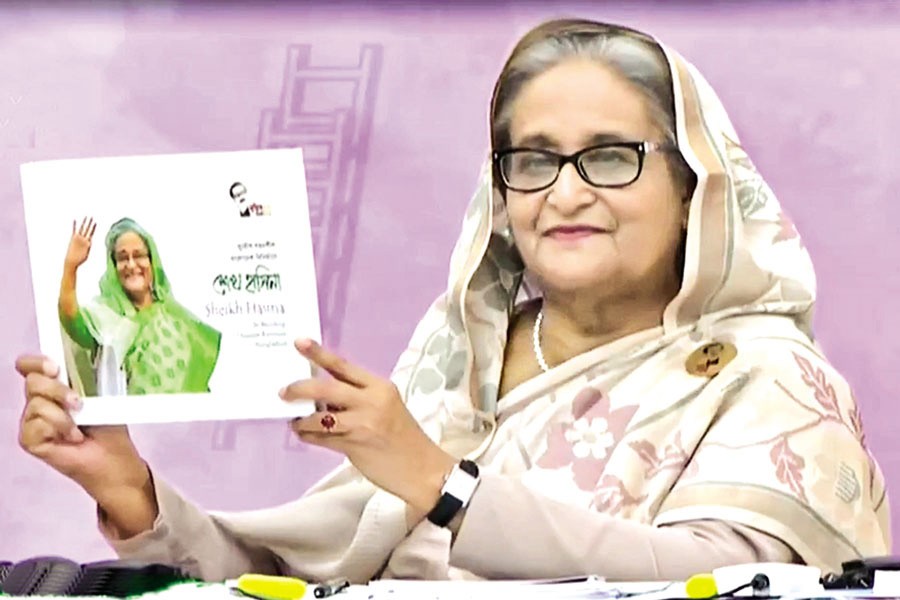 Prime Minister Sheikh Hasina, joining virtually from her official Ganabhaban residence in Dhaka, unveiling a book titled 'Durjog Sahonshil Bangladesh Binirmane Sheikh Hasina' (Sheikh Hasina in building disaster-resilient Bangladesh), marking 50 years of the Cyclone Preparedness Programme (CPP) and the International Day for Disaster Risk Reduction (IDDRR) — PID
Prime Minister Sheikh Hasina on Wednesday said Bangladesh is now a role model for the globe in disaster management as it has been able to ease disaster risks remarkably, report agencies.
"Today, Bangladesh is appreciated for effective disaster management for the initiatives we've taken following the footsteps of Father of the Nation," she said while addressing a virtual programme from her official residence Ganobhaban.
The Ministry of Disaster Management and Relief arranged the programme marking the 50 years of Cyclone Preparedness Programme (CPP) and International Day for Disaster Risk Reduction 2021.
The audience was connected from the Osmani Smriti Auditorium in the capital and Muktijudda Field in Cox's Bazar.
Sheikh Hasina asked all concerned to stay conscious and take proper steps so that the honour Bangladesh has achieved as an 'ideal country' over disaster management does not get harmed in any way.
Since Bangladesh is a delta nation, she said, the AL government formulated Delta Plan 2100 and started implementing 80 projects as per the plan.
Hasina stressed the need for checking river erosion and enhancing water reservoir capacity to face floods.
Noting that flood is common in Bangladesh but it is also a blessing as it provides silts and thus increases land fertility, she said, "We'll have to control floods or to be habituated to live with floods. So, we need to undertake development projects to prevent the loss of lives and property, and have water reservoirs in every area."
The premier said it is essential to take measures to enhance the water holding capacity during the flooding and use the water in irrigation for crop production.
She said her government has already taken plans to dredge some 510-km rivers by 2022. Besides, it is implementing various projects to construct water reservoirs, excavate 4886-km canals, construct and repair flood-control dams as part of disaster preparedness.
In disaster reduction, she said, the AL government constructed 230 flood shelter centres and 320 cyclone shelter centres across the country.
And the construction of more 423 flood shelter centres and 230 cyclone shelter centres is underway, she added.
Presided over by State Minister for Disaster Management and Relief Dr Md Enamur Rahman, the function was also attended by Chairman of Parliamentary Standing Committee on the Ministry of Disaster Management and Relief AB Tajul Islam.
PM's Principal Secretary Dr Ahmad Kaikaus conducted the event from Ganobhaban and Disaster Management and Relief Secretary Md Mohsin delivered the welcome speech.
Bangladesh is observing the International Day for Disaster Reduction 2021 with the theme of "Working together to Reduce Disaster Risk" (Durjog Jhuki Rashe Kaj Kori Eksathe).
The Prime Minister inaugurated four new units of CPP - Druto Saradan Unit (Quick Response Unit), Pani Theke Uddar Kora Unit (Rescue from Water Unit), Oti Joar Monitoring O Saradan Unit (High Tide Monitoring and Response Unit) and Khelay Khelay Durjog Prostoti Unit (Raising awareness over disaster preparedness with funs among school and college students Unit).
Hasina also unveiled the cover of a book named "Durjog Sohonshil Bangladesh Binirmane Sheikh Hasina" (Sheikh Hasina in building disaster-resilient Bangladesh) that focused on Sheikh Hasina's glorious contribution to disaster management.
A documentary titled "50 Years of Disaster Management: Bangabandhu to Sheikh Hasina" was screened highlighting the role of Bangabandhu and Sheikh Hasina.
At the event, three volunteer organisers, six volunteers-three men and three women-were awarded with lifetime honour for their outstanding role in disaster management.
The Prime Minister urged all to ensure fire and other safety measures during the construction of high-rise buildings.
"During the construction of any high-rise building, it's needed to ensure a fire extinguishing system. We're also collecting rescue equipment gradually to reduce disaster risks," she said.
The government has also been working on its part to reduce fire and other disaster risks, she said, adding that it is enhancing the capacity of the fire service and civil defence to this end.
She criticised the then BNP government for its delayed and poor response during the 1991 strong cyclone that claimed huge lives.
Hasina said she visited the affected areas immediately after the cyclone and witnessed the public sufferings and miseries. It is her party and its leaders who stood first beside people much before the government during the 1991 disaster.
She criticised then Prime Minister Khaleda Zia for her remarks in the Jatiya Sangsad that the death toll was less than what was feared earlier.
Bangladesh should confront all odds and continue to work to bring positive changes to the lives of people and free them from poverty as part of its development efforts, said the premier.
"This country belongs to us. No matter what the odds are, we must confront them and continue the development work," Hasina said.
"One must keep it in mind that natural disasters, such as storms and floods, or fire incidents may occur anytime. While constructing a house or an office building, people should follow the building code to ensure the structures are able to prevent those risks," she added.
The Awami League was always out there to help people in distress, Hasina said.