---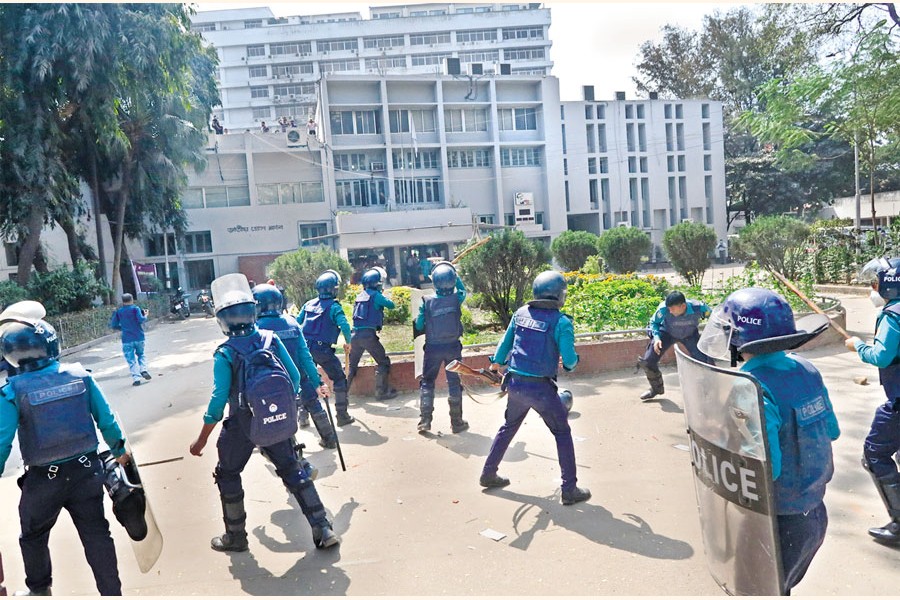 Police entered the National Press Club premises in the city on Sunday, chasing a group of Jatiyatabadi Chhatra Dal (JCD) activists during a rally demanding an investigation into writer Mushtaq Ahmed's death in custody and repeal of the Digital Security Act FE Photo
At least 35 persons, including journalists were injured following a brutal clash between police and BNP activists in front of the National Press Club (NPC) in Dhaka on Sunday morning.
The clash occurred around 11:00 am when the activists of BNP and its student wing Jatiyatabadi Chaatra Dal (JCD) held a rally in protest against the death of writer Mushtaq Ahmed and demanding repeal of the Digital Security Act, in front of NPC without prior police permission.
The BNP leaders and JCD activists gathered in front of the NPC at around 10:00, but police intercepted them when they tried to come out on the road in front of the NPC around 11:00 am.
At one stage, following the altercation of the issue, the BNP followers threw brickbats toward police and in retaliation police responded with blank gunshots and teargas canisters to disperse them from the area.
Due to the clashes, BNP leaders and activists of JCD took shelter inside the NPC.
Later, police entered the club, but could not find them. However, police brought the situation under control at around 11:30 am.
Besides, BNP secretary general Mirza Fakrul Islam Alamgir was supposed to attend the programme but the venue became a small battle ground before his arrival.
The injured persons were admitted into Dhaka Medical College Hospital (DMCH).
Meantime, deputy commissioner of Ramna zone police Sajjadur Rahman told the newsmen that the leaders of BNP and JCD activists carried out attacks on police in a planned way.
He warned stern legal action would be taken against the persons responsible for carrying out attacks on police.
Informing that it was mandatory to get prior permission (police commissioner) for holding rallies in metropolitan areas, he said, but they (BNP followers) gathered there (in front of NPC) without our permission.
Five to seven police personnel were also injured during the clash and they were admitted to different hospitals, he added.
Besides, he said some BNP leaders were now under their custody and they (police) were scrutinising them.