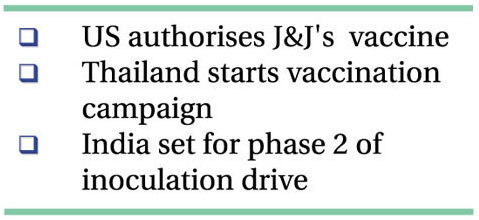 Amid concern over the new variants of Covid-19, the global Covid-19 cases surpassed 114 million despite widespread vaccination, report agencies.
The global caseload reached 114,438,625 while the death toll 2,538,697 as of Sunday, according to data compiled by Worldometers.
So far 236.59 million vaccine shots were given worldwide in 103 countries, according to Bloomberg vaccine tracker.
The US, the world's worst-hit country, has so far registered 28,554,177 Covid cases with 511,994 fatalities, according to the university's corona tracker.
Brazil registered 1,386 deaths from the novel coronavirus in the last 24 hours, bringing the death toll to 254,221, the Ministry of Health reported Saturday.
A total of 61,602 new cases were reported, bringing the national tally to 10,517,232, according to the ministry.
Brazil has the second largest number of deaths from the coronavirus, following the United States, and the third largest number of cases, after the United States and India.
The state of Sao Paulo, the most populous state in the country, is the hardest hit by the pandemic, with 2,037,267 cases and 59,428 deaths, followed by Rio de Janeiro, with 582,164 cases and 33,035 deaths.
As of Friday, 6.4 million Brazilians have received at least one dose of vaccine against COVID-19, while 1.8 million people have received both doses.
India has so far registered 11,079,979 cases as of Sunday morning while the death toll mounted to 156,938.
Meanwhile, the US government on Saturday authorized Johnson & Johnson's single-dose COVID-19 vaccine, enabling millions more Americans to be vaccinated in the coming weeks and setting the vaccine up for additional approvals around the world.
Another report adds: Thailand kicked off its COVID-19 inoculation campaign on Sunday, with cabinet ministers, health officials and medical professionals among the first in the queue to receive vaccinations.
Meanwhile. India is all set to start the second phase of Covid-19 vaccination from today for those who are over 60 years of age and for people aged 45 and above with specified co-morbid conditions.
To ramp-up, the Covid-19 vaccination capacity, around 10,000 private hospitals under the Ayushman Bharat-PMJAY and over 600 private hospitals under the central government health scheme will be utilised. The covid vaccine will be given free of cost at government hospitals, while people will need to pay for it at private facilities.