---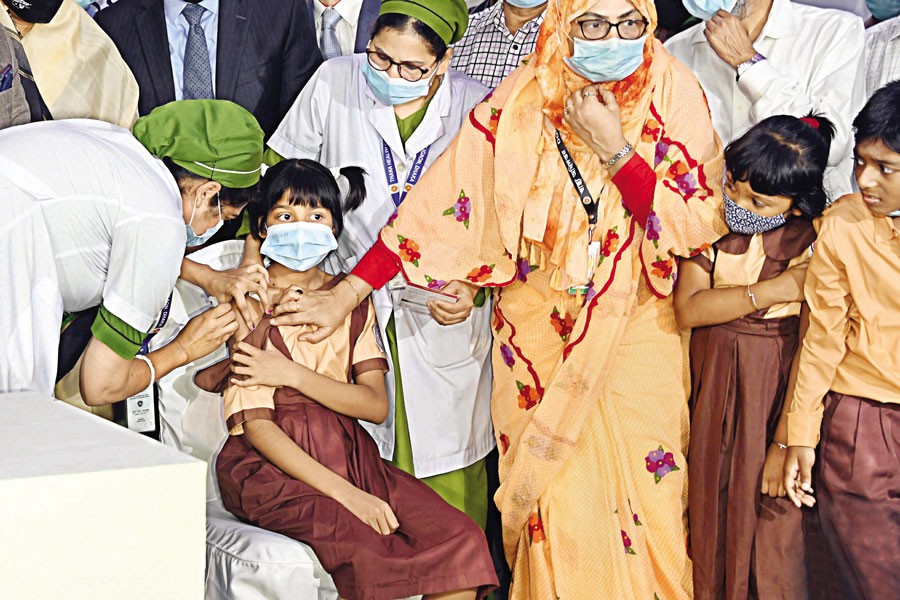 A kid is receiving a Pfizer Covid shot on a trial basis at Bangabandhu International Conference Center (BICC) in Dhaka on Thursday, as the government launched its Covid vaccination programme for children aged 5-11. A total of 16 students, all from Abul Bashar Government Primary School in city's Sher-e-Bangla Nagar, were inoculated on the day. — PID
Bangladesh on Thursday started administering Covid-19 vaccine to the children aged between 5-11 years on experimental basis.
Health Minister Zahid Maleque, Education Minister Dr Dipu Moni and US Ambassador in Bangladesh Peter Haas jointly launched the campaign at Bangabandhu International Conference Center (BICC) in the city, reports UNB.
The full-fledged vaccination programme for children will start August 25, said the health minister.
He said about 2.0 million children of primary schools will be vaccinated under the campaign.
"We have already received about 3.0 million doses of vaccine. The US government has assured us to provide the rest of the vaccine through COVAX facility," he added.
The received vaccines will be administered among the children in two months' gap.
Pfizer vaccine is specially developed for the children which was also approved by Directorate General of Drug Administration, he added.
Mentioning the low risk among children from Covid, the minister said about 29,000 people have died of Covid in the country so far, of which 80 to 85 percent are above 50 years. The fatality rate among the youths is very low.
"We ranked first in South Asia in conducting vaccination programmes.
Many countries are still unable to vaccinate 10-15 per cent of the population," said the minister.
The United States recently donated over three million pediatric doses of Pfizer vaccines and committed to donating a total of over 40 million (4 crore) pediatric doses.
US support for this new children's COVID-19 vaccination campaign includes over $7.3 million and comes alongside other assistance from COVAX.