More than 400,000 new coronavirus infections were declared across the world on Friday, a record number, according to a tally by Worldometer Saturday, report agency.
A total of 413,121 new cases were reported, with 6189 new deaths.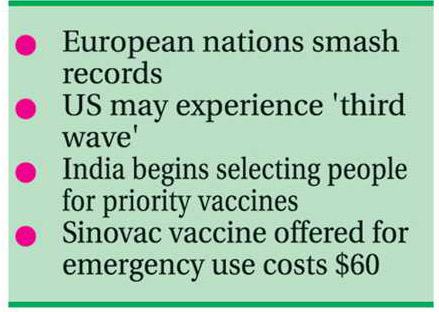 In Europe the number of cases rose sharply in a single week, by 44 per cent compared to the previous week, while in the United States and Canada infections increased by 17 per cen.
Countries including Germany, Austria, Poland, Ukraine and Czech Republic reported record daily increases in the number of coronavirus infections.
US coronavirus cases increased by the most since late July. Italy is considering the tightest restrictions since its national lockdown ended as additional curbs come into effect in Paris and London.
Schaffner, an epidemiologist at Vanderbilt University,
said he expects the US to experience a "substantial third wave" of infections and that it will be further complicated this winter by the spread of seasonal influenza, which causes many similar symptoms to that of the coronavirus.
In the US, coronavirus cases were growing by 5 per cent or more in 38 states, as of Friday, according to a CNBC analysis of data compiled by Johns Hopkins University that uses a weekly average to smooth out the reporting.
India's coronavirus infections rose by another 62,212 cases over the previous day and a local media report said on Saturday that the government had begun identifying about 300 million people who would be given the vaccine first when it is ready.
The Times of India said that frontline health and sanitation workers, police officials and elderly people with co-morbidities will get the vaccine on priority.
A Chinese city is offering Sinovac Biotech's experimental COVID-19 vaccine to essential workers and other high-risk groups as part of a national programme for about $60.