---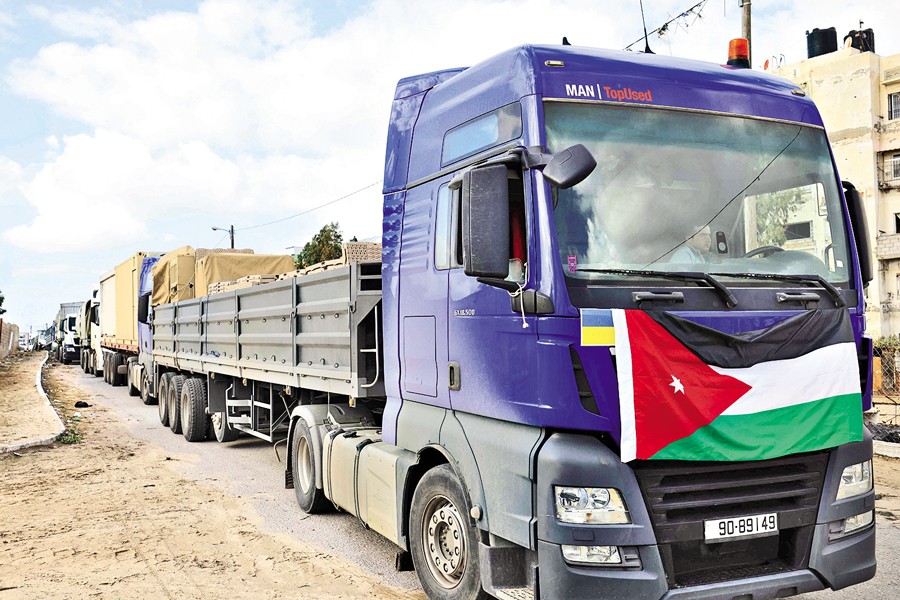 An aid convoy transporting a Jordanian field hospital arrives in Khan Yunis in the southern Gaza Strip on Monday, after crossing through the Rafah border crossing with Egypt amid continuing battles between Israel and the militant group Hamas. — AFP
RAFAH, Nov 20 (AFP): Palestinian officials said a field hospital accompanied by 170 personnel sent by Jordan entered the Gaza Strip Monday, the first since the war between Israel and Hamas erupted on October 7.
Weeks of intense bombardment and acute shortages of fuel and medical supplies have prompted the collapse of Gaza's health system, with the majority of hospitals no longer functioning.
There are around 30,000 wounded people across Gaza, according to the Palestinian territory's Hamas-run government, which said Sunday that 13,000 had been killed, mostly civilians.
Mohammed Zaqout, director-general of Gaza hospitals, said the field hospital will be established in Khan Yunis, in the south, "to receive the wounded and the sick".
Hospitals in the area were experiencing "catastrophic" conditions, he said, "with the influx of hundreds of wounded each day and continued aggressive aerial and artillery strikes". They could no longer accept sick patients or women who needed to give birth by Caesarean section, he added.
The war broke out when Hamas militants attacked southern Israel, killing about 1,200 people, also mostly civilians, while around 240 were taken hostage, according to Israeli officials.
The field hospital has a 41-bed capacity, the Jordanian royal palace said, and Aed Yaghi, head of medical aid in Gaza, said it was accompanied by 170 personnel and 40 trucks of medical aid.
It would help ease the pressure on existing health services, he told AFP, adding: "The number of medical personnel is limited and there aren't (enough) ambulances."
Palestinian medics hope field hospitals sent by the United Arab Emirates and Qatar will soon follow. All goods and individuals entering Gaza through the Rafah crossing with Egypt are subject to Israeli approval.
The head of Gaza's crossings authority, Hisham Adwan, said six ambulances from Kuwait also entered the territory on Monday.
An AFP journalist said the ambulances were taken to Nasser hospital in Khan Yunis. While hospitals in southern Gaza are overwhelmed, those in the north are now surrounded by fighting.
Health ministry spokesman Ashraf al-Qudra described the north as "catastrophic", with the "sick and wounded are dying from lack of care".
Earlier Monday, he announced 12 people were killed and dozens wounded in an Israeli strike on the northern Indonesian Hospital. With severe overcrowding and heavy autumn rain battering the territory, sickness is also spreading among displaced people.
The World Health Organization has registered more than 44,000 cases of diarrhoea and 70,000 acute respiratory infections across shelters. The global health agency warned the true figure could be far higher, with more than 800,000 people staying across more than 150 United Nations shelters.