---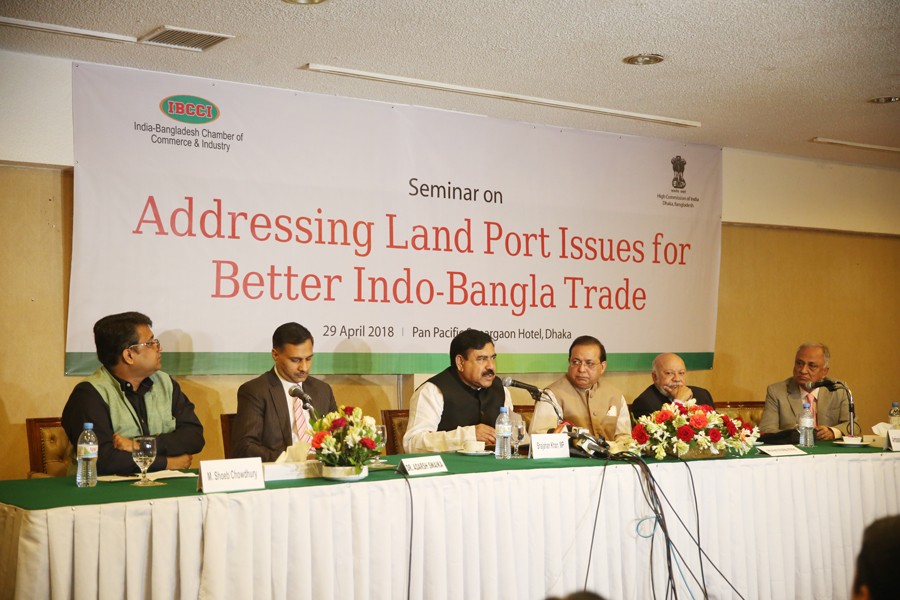 Shipping Minister Shajahan Khan speakng at a seminar on 'Addressing Land Port Issue for Better Indo-Bangla Trade' in the capital on Sunday — FE photo
Bangladesh could not reap the benefits of cross-border trade, as most of the country's land-ports have remained unused, experts and people involved in such trade opined at a seminar on Sunday.
They pointed out three major non-tariff barriers in this regard -- lack of adequate physical infrastructure, procedural complexities and poor regulatory framework.
They also focused on taking coordinated efforts from both Bangladesh and India to overcome the bottlenecks, and to enjoy shared socio-economic benefits as enjoyed during the British colonial regime.
Terming Bangladesh's geographical location as a transit point between South and Southeast Asia, they suggested adopting a broad-based multimodal regional connectivity approach by involving the private sector to expand trade towards the Southeast Asian economies and beyond.
According to them, a truck or lorry loaded with import and export goods requires 35 days to reach its destination, and (of these days) 17 days are spent for clearance purposes only.
The observations and suggestions came at a seminar -- 'Addressing land-port issues for better Indo-Bangla trade' -- arranged by India-Bangladesh Chamber of Commerce and Industry (IBCCI) at a city hotel.
Presiding over the seminar, IBCCI President Abdul Matlub Ahmad said Bangladesh exports to India fetche an amount equivalent to only 10 per cent ($650 million) of the total volume of import ($6.5 billion) from that country in the fiscal year (FY), 2016-17, and most part of the trade was done through the country's 22 land-ports.
"Of the land-port-based total trade, Petrapole-Benapole land-port accounted for 95 per cent goods, while rest of the land-ports do remain almost idle."
Giving example of Bhomra land-port, he said over the last five years the government invested money in making the port functional, but it has not been fully operational yet.
Bangladesh has a total of 23 land-ports, including six operated by the private sector. Only Teknaf port is located on Bangladesh-Myanmar border, and the remaining ports are along the border with India.
Executive Director of CUTS International, Jaipur in India Bipul Chatterjee presented the keynote paper and said three non-tariff barriers are affecting the ports' activities. These barriers are related with inadequate physical infrastructure, procedural complexities and poor regulatory framework.
He said usually export consignments from India have to wait at Benapole for 17-20 days for clearance purposes only, which creates a negative impact on the businesses. He proposed setting up off-border clearance facility on both sides of the border to avert congestion of goods-laden vehicles in the port area. Besides shortage of monetary resources to modernise and make the ports more effective, he also pointed finger at human resource deficiency to carry out automated trade transactions.
Senior Research Associate of The Institute for Policy, Advocacy and Governance (IPAG) Avia Nahreen said India can procure goods from other countries that are far away from Bangladesh, within a shorter period.
"So it makes no economic sense to buy products from Bangladesh that is reflected in the trade volume between the two countries. I think efficient border land-ports are needed instead of too many ports."
She also opined that transhipment should be done in a way that trucks can pass the border without delay for loading and unloading, which will help to reduce the waiting time of the vehicles at the ports by half.
"For that, we need more warehouses and storage facilities," she added.
Former Bangladesh High Commissioner to India Tariq Karim termed Bangladesh and Myanmar as two spans to connect South Asia with Southeast Asia.
He said Bangladesh is the western span and Myanmar is the eastern span. South Asia will lead a space for West Asia and the larger market while Southeast Asia will lead a space for East Asia along with the larger market.
"That is the purpose, why we need to reconnect. We were connected once during the British colonial regime."
Then Bengal presidency alone accounted for more than 30 per cent of revenue that Britain extracted from their colonies, as West Bengal and Bangladesh are located at the centre-point of the entire trading route.
"I think altogether we should go back to the era of prosperity and proper use of the resourceful area," he noted.
Chairman of Bangladesh Land Port Authority Tapan Kumar Chakravorty said they took various initiatives to enhance capacity of the land-ports in line with the SDG (sustainable development goals). They want to install national single window system, which awaits ECNEC approval, he added.
Speaking as the chief guest, Shipping Minister Shajahan Khan said the volume of trade has increased to 15.5 million tonnes in FY 17 from 3.42 million tonnes in FY 09, while the amount of revenue has risen to Tk 1.14 billion in FY 17 from Tk 270 million in FY 09.
Mentioning various projects for development of the land-ports, he said the government initiated measures to ensure import and export of all products through Bhomra land-port, which will be applied to other ports later.
He also suggested the businesses to use costal shipping for their trade purposes.
Deputy High Commissioner of India to Bangladesh Dr. Adarsh Swaika also spoke on the occasion.