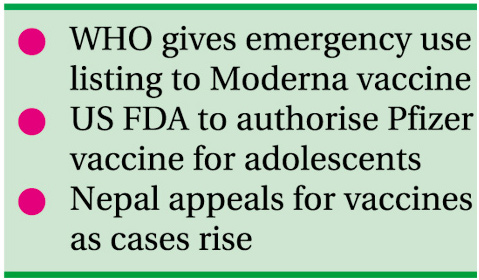 The global Covid-19 caseload surpassed 154 million on Tuesday, with the world literally struggling to contain the second outbreak of the virus, report agencies.
According to Worldometers, the total case count and fatalities now stand at 154,298,793 and 3,229,341, respectively.
Meanwhile, more than 1.17 billion doses have been administered across 174 countries, according to data collected by Bloomberg. The latest rate was roughly 20.2 million doses a day.
The US is the world's worst-hit country in terms of cases and deaths. The country is expected to authorise Pfizer's Covid-19 vaccine for youngsters aged 12 to 15 by next week.
The US has logged 32,470,823 cases, with 577,500 fatalities, as of Tuesday morning, according to the university data.
Brazil's Covid-19 death toll reached 408,622 after 983 more deaths were registered in the past 24 hours, the Ministry of Health said on Monday.
Meanwhile, tests detected 24,619 new infections during the same period, taking its nationwide tally to 14,779,529.
Brazil has the world's second-highest Covid-19 death toll, after the United States, and the third-largest outbreak, behind the United States and India.
Another report adds: The World Health Organisation has listed Moderna's COVID-19 vaccine for emergency use, the agency said on Friday, the fifth to be given the status meant to expedite countries' own approval of shots.
The Food and Drug Administration of US is preparing to authorise use of the Pfizer-BioNTech coronavirus vaccine in adolescents 12 to 15 years old by early next week, according to federal officials familiar with the agency's plans, opening up the US vaccination campaign to millions more people.
Meanwhile, Nepal urgently needs at least 1.6 million AstraZeneca's COVID-19 vaccine doses to administer second shots as the Himalayan country is recording a surge in new coronavirus cases.