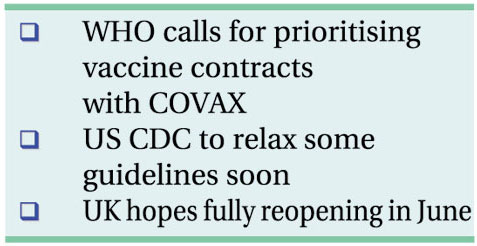 The total global Covid caseload crossed 112.3 million while global death toll from the deadly virus fast nears the grim milestone of 2.5 million, according to Worldometers, report agencies.
To be specific, the death toll from the virus reached 2,487,501 while the total caseload mounted to 112,360,167 on Tuesday evening, according to the data.
In the US alone, the Covid death toll topped 500,000 on Monday. The country has so far registered 28,188,308 cases.
The US toll is by far the highest reported in the world, accounting for 20 percent of the nearly 2.5 million corona deaths globally, though the true numbers are thought to be significantly greater, in part because many cases were overlooked, especially early during the outbreak, reports AP.
The first known deaths from the virus in the US were in early February 2020. It took four months to reach the first 100,000 deaths. The toll hit 200,000 in September and 300,000 in December, then took just over a month to jump from 300,000 to 400,000 and another month to climb to 500,000.
Report from Washington adds: Top US infectious disease official Anthony Fauci on Tuesday told CNN that he expects the US Centers for Disease Control and Prevention to soon relax some COVID-19 recommendations aimed at curbing its spread for people who have been vaccinated.
"I believe you're going to be hearing more of the recommendations of how you can relax the stringency of some of the things, particularly when you're dealing with something like your own personal family, when people have been vaccinated," Fauci said, adding he expected the new guidance "pretty soon."
Another report from London adds: British Prime Minister Boris Johnson said on Tuesday that he was very optimistic that all COVID-19 restrictions in England would end on June 21, and added that the government would hold a review into the use of vaccine certificates.