---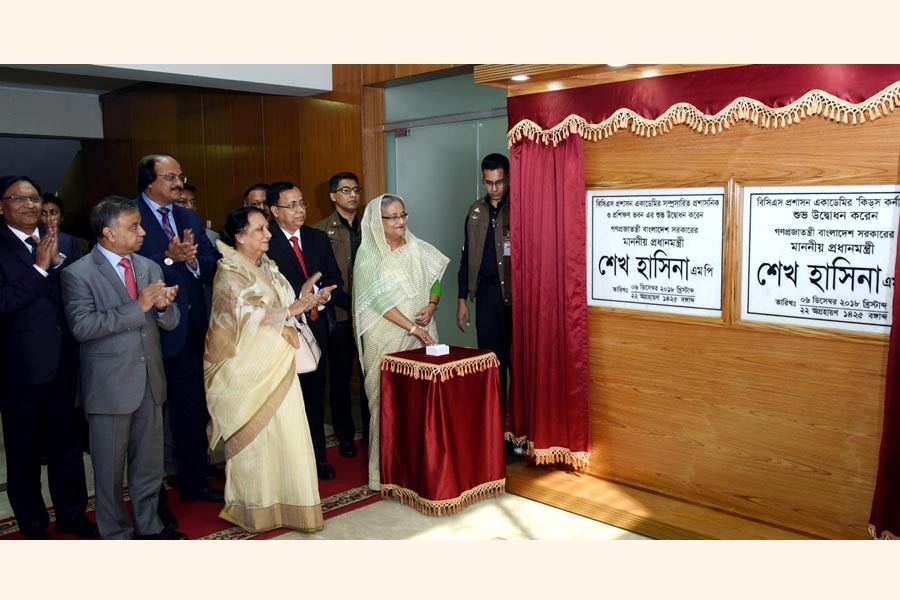 Prime Minister Sheikh Hasina inaugurating administrative annexed building and Kids Corner of Bangladesh Civil Service Administration Academy (BCSAA) in the city on Thursday— BSS
Prime Minister Sheikh Hasina said on Thursday the government does not want to see the burning people alive as done in 2014 and 2015 in the name of resisting election and ousting the government, reports UNB.
"We saw the horrible picture of burning a man alive... such horrible things cannot be committed by any normal person... what happened in Bangladesh in 2014 and 2015 was just unbelievable. We don't want such incidents to take place in Bangladesh in the future," she said.
The Prime Minister was speaking at the closing ceremony of the 107th, 108th and 109th Law & Administration Courses at Bangladesh Civil Service Administration Academy in the morning.
She said 3,900 people were injured and 500 killed in 2014 while hundreds of institutions and vehicles, rail locomotives and coaches, launches were demolished at that time.
Sheikh Hasina said the voting right is one of the basic rights of people and they will cast their votes whoever they like. "Let the democratic trend to continue in the country. If it continues, then the development of the country will be maintained."
The Prime Minister asked the newly recruited public servants of the country to perform their duties aiming to develop Bangladesh imbued with patriotism and affection for people. "Honesty is the real power...you have to discharge your responsibilities with sincerity and the attitude of dutifulness towards people."
Hasina asked the public servants to build the country in such a way so that its people could walk in the world arena with dignity.
The Prime Minister directed the employees of the republic to remain vigil against terrorism, militancy and drugs as these evil menaces can destroy a family, society and country.
She mentioned that the government has been able to control terrorism, militancy and drugs in its tenure. "The drive against these menaces will continue."
Besides, she said, all must work rising above corruption.
State Minister for Public Administration Ministry Ismat Ara Sadique, Public Administration Secretary Faiz Ahmed and Rector of the Bangladesh Civil Service Administration Academy M Mosharaf Hossain also spoke at the programme.
Rector Award winners SM AZharul Islam, Sharif Asif Rahman and M Mosaddeq Hossain shared their feelings at the function.
Earlier, the Prime Minister distributed certificates among the participants of the two courses.
Later, she enjoyed a colourful cultural programme performed by the trainees of the 107th, 108th and 109th Law & Administration Courses.