The government is exploring export markets worldwide for its agricultural products to increase earnings from the sector as well as to overcome possible shocks after the country's LDC graduation, sources said.
As part of the move, the Ministry of Agriculture (MoA) has asked the Bangladesh mission in Seoul, Korea to plan the next course of actions regarding the issue, a senior official said.
Besides, it is expected to assign officials to explore markets for its different agri-products, which have huge demand in the global market.
"Recently, we have asked the Bangladesh embassy in Seoul for exploring market for our agricultural products in South Korea, as there is a huge scope of exporting high-value crops, fruits, vegetables and jute products there from Bangladesh," he added.
Experts said now Bangladesh is taking preparations to graduate from the least developed country (LDC) status in 2026. There is a growing need to diversify its economy and find new sources of growth to face possible challenges after the graduation. The government should take necessary steps to handle the challenges.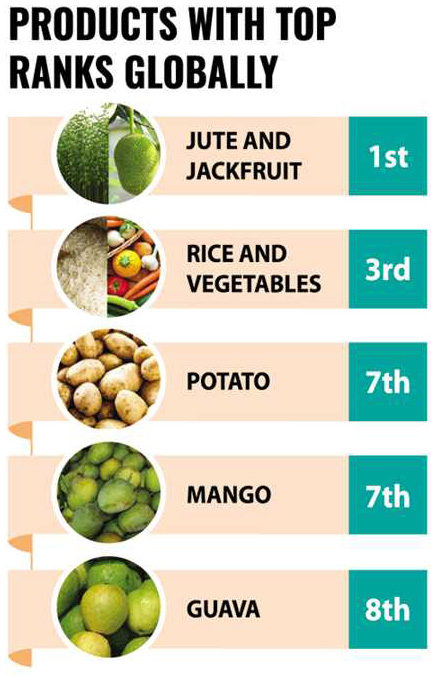 The government needs to take required strategies for building a strong country brand for its agricultural products in the international market. It can take assistance from the countries that have achieved remarkable development in the agri sector.
In this circumstance, the MoA can learn from the approaches of Thailand and Australia to build a country brand for Bangladeshi agricultural products worldwide, they added.
The country's agri exporters faced several challenges in exporting their items in some countries, including the UK, EU, China and Qatar, due to sanitary and phytosanitary (SPS) requirements, an official said.
According to the MoA letter, Bangladesh is capable of producing a variety of crops with global top ranking in items like jute and jackfruit (1st), mango (7th), guava (8th), rice and vegetables (3rd), and potato (7th).
The government is very pro-agriculture and offering a range of generous incentives in the forms of tax rebate, low interest rate, and export incentives - to make local products competitive in the global export market, it noted.
It is addressing Agriculture Transformation Process (ATP) for supporting diversification towards high-value crops while maintaining a strong focus on ensuring food and nutrition security as well as building long-term resilience to climate change in accordance with the government policies.
The letter mentioned that the MoA has already introduced Good Agriculture Practice (GAP) in agriculture. In addition to existing labs and processing facilities, a modern accreditation lab with packing house of international standard is being established in Purbachal, Dhaka.
Agriculture plays an undeniable role in overall growth of the national economy. About 38 per cent of the labour force is directly involved in the agriculture sector.
The country has made an outstanding progress in the agricultural sector over the past few years. Bangladesh has great potential to boost its agri-export earnings.
The country's agri-food exports have been increasing in the recent years, with over US$ 1.16 billion worth of products exported to different international markets in fiscal year 2021-22, the Export Promotion Bureau (EPB) data showed.
The government has initiated a roadmap to fetch $2.0 billion from agro-products within FY 2023, according to the MoA.