---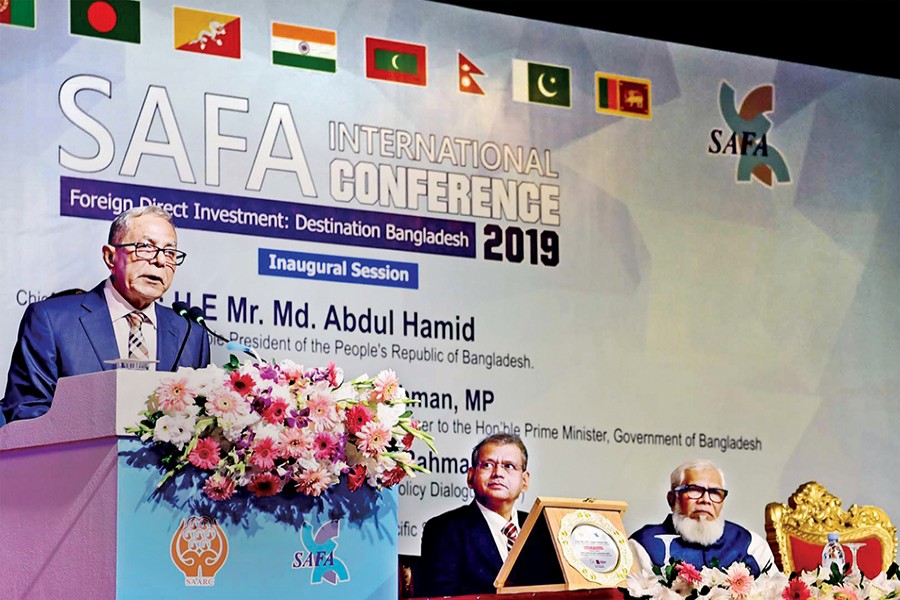 President Md Abdul Hamid speaking at the inaugural session of SAFA International Conference-2019 at a city hotel on Saturday PID
FE REPORT
Speakers at a regional discussion on Saturday said Bangladesh won't be able to attract new foreign direct investment unless the existing foreign investors are treated properly.
Whatever is happening to Grameenphone and Robi, two largest foreign investors in the country, is not giving out the right signal to the foreign investors, they observed.
They also said the government should resolve the issue as soon as possible in a way so that foreign investors feel comfortable.
The speakers made the observations at a technical session on "Foreign Direct Investment: Destination Bangladesh" at the "South Asian Federation of Accountants (SAFA) International Conference 2019" organised by the Institute of Chartered Accountants of Bangladesh (ICAB) at a city hotel.
Ahsan H Mansur, Chairman of Brac Bank and Executive Director of Policy Research Institute of Bangladesh (PRI) said, "Are we selling our growth story appropriately?"
He said private sector and foreign investors in the country will tell other domestic and foreign investors about the growth stories.
Mr Mansur also said Bangladesh needs to take "just" approach to attracting FDI rather than being "nationalistic".
Replying to a question about the treatment of two largest telecom operators-Robi and Grameenphone, Barrister Tanjib-ul Alam said if foreign investors are not treated well, nobody will come here to make investment.
"This is largely a policy issue how the government treats the foreign investors in the country. It should consider the larger picture rather than getting a feeling of winning."
"When things are under your control, you can actually untangle the situation," he added.
He also said the foreign investors-GP and Robi-think they are not treated fairly and it is giving out a wrong signal to other foreign investors.
Ahmed Raihan Shamsi, Chairman and CEO of DevoTech Technology Park Limited said, "When we talk about foreign direct investment, we should take existing FDI into consideration."
"It will not make much of a sense running after new FDI, if we can't take good care of existing FDI."
He added: "We may not take good care…but new investors from anywhere in the world will first check how well they have been treated by this country."
Speaking at the discussion, CEO and Managing Director of IDLC Finance Arif Khan said Bangladesh lacks infrastructure and this is a key obstacle to attracting FDI.
He said the government will be requiring $120 billion FDI in next five years to continue the existing growth but it will not be able to attract even $5 billion FDI.
Bangladesh needs to turn into a facilitator rather than a regulator, he added.
SAFA representatives Charanjot Singh Nanda from India, Krishna Prasad Acharya from Nepal, Jagath Perera from Sri Lanka, Mohammad Abdullah Yusuf from Pakistan and former president of ICAB Humayun Kabir also spoke at the event.
bdsmile@gmail.com