---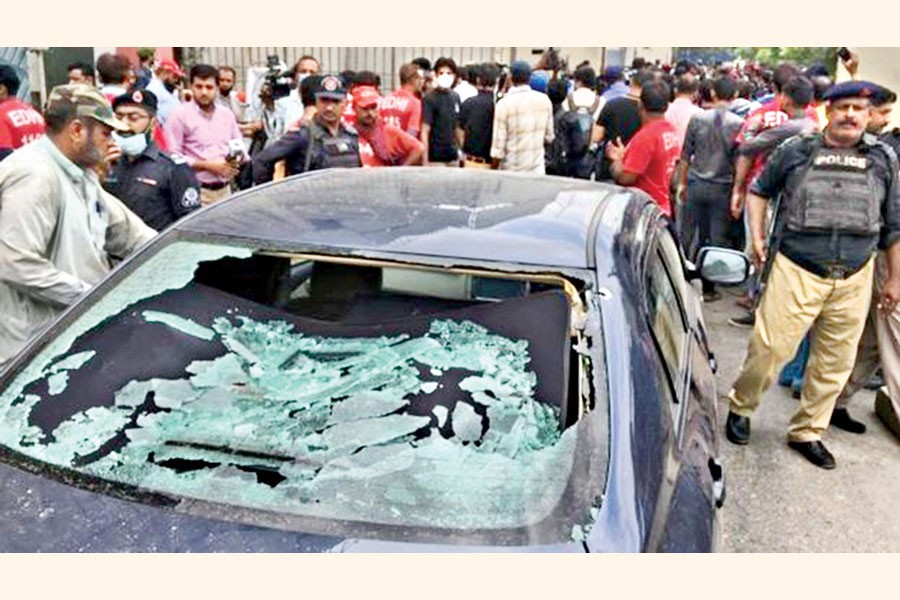 Ambulances are seen parked outside Pakistan Stock Exchange building after an attack in Karachi on Monday Reuters
KARACHI (Pakistan), June 29 (Reuters): Four gunmen attacked the Pakistani Stock Exchange building in the city of Karachi on Monday but security forces soon killed them all, police said.
Two other people were also killed, the military said.
The gunmen attacked the building, which is in a high security zone that also houses the head offices of many private banks, with grenades and guns, Karachi police chief Ghulam Nabi Memon told Reuters.
"Four attackers have been killed, they had come in a silver Corolla car," Memon said.
The gunmen initially threw a grenade then opened fire on a security post outside the building. The four were killed when security forces posted there responded.
"The situation is still unfolding and management, with the help of security forces, is managing the security and controlling the situation," the Pakistan Stock Exchange (PSX) said on Twitter.
Militants from the Baloch Liberation Army say they were behind the attack.
Ethnic Baloch groups have fought a long-running insurgency for a separate homeland and a greater share of resources in Pakistan's Balochistan province.
The gunmen stormed a security post at the gate and fought their way into the car park
Pakistan has suffered years of militant violence, mostly by Islamist groups, but attacks such as this one have become rare in recent years.
Images from the scene show the bodies of at least two men on the ground next to large amounts of ammunition and weapons. It was not immediately clear if more assailants were involved, prompting an extensive search of the premises by security forces.
Trading continued without interruption.
"We locked ourselves in our offices," Asad Javed, an employee at a brokerage in the building, told Reuters news agency.
The exchange is situated in a high security zone along with head offices of banks and other businesses.
It has offices for hundreds of financial institutions and says up to 8,000 people work there on a normal day - but numbers were down because of home working during the coronavirus pandemic.