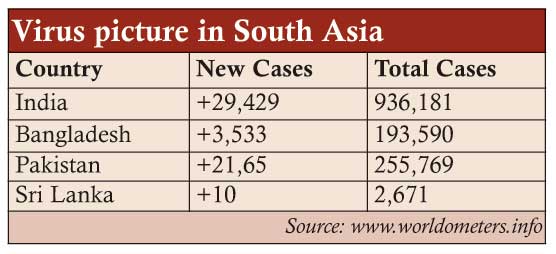 A record jump of 29,429 Covid-19 cases in India in a single day pushed the country's tally to 959,993 Wednesday, according to Worldometers graph.
India's total COVID-19 cases included 3,19,840 active cases, 5,92,032 cured/discharged/migrated cases while the death toll was at 24,309 informed the Union Ministry of Health and Family Welfare on Wednesday.
This is the fourth consecutive day that the number of Covid-19 cases increased by more than 28,000.
The pandemic has killed at least 582,803 people worldwide with 13.53 million cases since it surfaced in China late last year, according to a Worldometers tally based on official sources.
The United States is the worst-hit country with 136,466 deaths. It is followed by Brazil with 74,133, Britain with 44,968, Mexico with 36,327, and Italy with 34,984 fatalities.
Pakistan's coronavirus cases on Wednesday reached 255,769 after 2,165 more people tested positive in the last 24 hours, the health ministry said.
According to the Ministry of National Health Services, 172,810 people have recovered so far across the country.
On Tuesday, 67 more Covid-19-related deaths were reported during the last 24 hours, taking the total number of fatalities to 5,386.
The ministry data showed that the total number of active coronavirus patients in Pakistan was 77,573.
More than 75 countries have expressed interest in joining the COVAX financing scheme designed to guarantee fast and equitable access globally to COVID-19 vaccines, the GAVI vaccines alliance said on Wednesday.
The 75 countries, which would finance the vaccines from public budgets, will partner with up to 90 poorer countries supported through voluntary donations to GAVI's COVAX Advance Market Commitment (AMC).