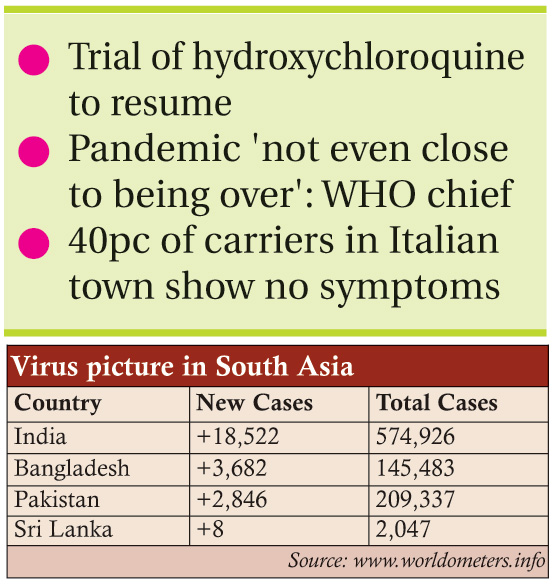 The global death tolls from Covid-19 reached 508,803 on Tuesday while the confirmed cases crossed 10,432,843, according to Worldometers tally, report agencies.
The tally shows Brazil as the second most infected country after the US, with 1,370,488 coronavirus cases and 58,385 deaths as of Tuesday.
Meanwhile, South Asian country India has come up to the fourth position after Russia with 568,346confirmed Covid-19 cases. The country has so far reported 16,919 deaths.
Among the countries, the US has been the worst-hit with the highest recorded deaths of 128,788 patients and about 2,682,011 confirmed cases.
Several Indian cities prepared to extend their lockdowns to combat the spread of the novel coronavirus on Tuesday, as daily cases in the country remained close to 20,000.
India reported 18,522 new cases over the previous 24 hours, according to federal health data released on Tuesday, down slightly from Sunday's record of 19,906.
Another report adds, the head of the World Health Organization (WHO) warned nearly six months after the new coronavirus first emerged, that the Covid-19 pandemic is 'not even close to being over.'
Speaking on the eve of the grim milestone, Tedros Adhanom Ghebreyesus on Monday called for renewed global commitment to save lives as cases surpass 10 million worldwide, with 500,000 deaths, as the virus continues to spread, reports UN News.
"We all want this to be over. We all want to get on with our lives. But the hard reality is: this is not even close to being over", he told journalists.
Meanwhile, a global trial designed to test whether the anti-malaria drugs hydroxychloroquine and chloroquine can prevent infection with COVID-19 is to restart after being approved by British regulators.
Another report adds: More than 40 per cent of people diagnosed with COVID-19 in one Italian town showed no signs of being ill, according to research published Tuesday indicating that asymptomatic carriers may be significant spreaders of the virus.