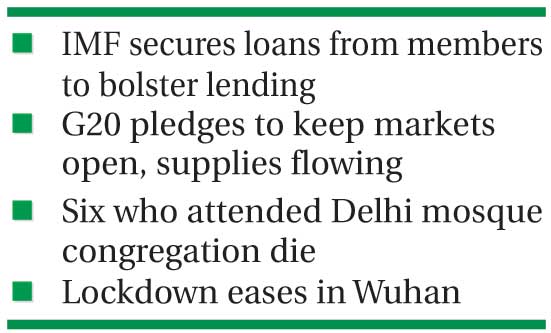 More than 790,640 cases of infection have been recorded in 185 countries and territories since the epidemic started in China in December, according to an AFP tally compiled at 1000 GMT Tuesday based on official sources, report agencies.
At least 38,464 deaths have been recorded, 27,740 of those in Europe.
Italy has 11,591 deaths, Spain 8,189, mainland China 3,305, the United States 3,170, France 3,024, and Iran 2,898.
Health officials around the world are scanning the latest data in the hope of spotting signs that the curve is starting to flatten as a result of now-widespread lockdowns.
Australia, for example, with some 4,400 coronavirus cases, is seeing the rate of growth in new infections slowing from 25-30 per cent a week ago to an average of 9.0 per cent over the past three days.
In Spain, the daily infection increase has slowed since the introduction of lockdown measures, falling to 12 per cent on average in the past five days from around 20 per cent in the preceding 10 days.
But while these may offer glimpses of a possible slow-down, health experts everywhere warn that it is too early to restart anything resembling normal life.
Moreover the death toll - which tends to trail new infections by a few weeks - is still rising: both France and the United States recorded their deadliest days on Monday.
The International Monetary Fund said Tuesday its members have agreed to renew arrangements ensuring the fund has lending firepower, especially as the coronavirus pandemic creates a demand for financing.
"This action is part of a broader package on IMF resources and governance reform that will help maintain the IMF's lending capacity of $1 trillion," the fund said in a statement.
The executive board of the Washington-based development lender on Monday approved the bilateral borrowing arrangements to take effect January 1, 2021, just after the current round expire, which will be in place for three years but can be extended through the end of 2024.
The arrangements currently in place provide $450 billion from 40 countries, and add to the IMF's other resources including usual quotas provided by each member, as well as financing under the New Arrangements to Borrow which will be doubled to just over $500 billion.
G20 trade ministers pledged to keep their markets open and ensure a continued flow of vital medical supplies, equipment and other essential goods. But they stopped short of explicitly calling for an end to export restrictions that many countries - including France, Germany and India - have enacted on drugs and medical supplies.
Six people who attended a congregation at a mosque in Delhi's Nizamuddin have died in Telangana after testing positive for coronavirus, the government of the Indian state said. A cleric at the event had died in Srinagar last week.
More than 2,000 delegates, including from Malaysia, Indonesia, Saudi Arabia and Kyrgyzstan, participated in the congregation in mid-March of Tabligh-e-Jamaat - a Muslim religious organisation, according to the news broadcaster NDTV.
India has registered 1,251 cases of the coronavirus, 32 of whom have died.
Residents of China's Wuhan city, ground zero for the coronavirus pandemic, have mixed emotions as containment measures are lifted and the community infection rate slows to a trickle, with some praising the government and others rueing the economic costs.