Federation of Bangladesh Chambers of Commerce and Industry (FBCCI) president Sheikh F Fahim said lending rate should be simple, not compound.
He said the targeted single-digit interest rates have been made available from April 2020. "We're thankful to Prime Minister Sheikh Hasina for that."
Mr Fahim made the observation in an exclusive interview with the FE on the occasion of the golden jubilee of the country's independence.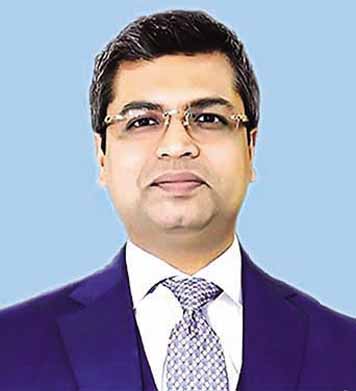 Sheikh F Fahim
Financial institutions' access to finance should be simplified, transparent, consistent and predictable (STPC), without fine prints and hidden costs, he said.
"If ease-of-doing business is supported with ease of financing, entrepreneurs and financial institutions will be benefitted."
Mr Fahim said trade financing and project financing ought to be based on feasibility; technology and alternative credit assessments with insurance credit risk will increase volume and access which is a win-win situation for all stakeholders.
He said FBCCI member chambers and associations might assist in KYC (know your client) for collateral-free loans.
"Our earlier such initiatives had a 99 per cent recovery rate," the trade body leader stated.
On Bangladesh's achievement over the past five decades, Mr Fahim said the government created an enabling environment, and the dynamic and resilient private sector is leading the nation forward.
Skilled human resources and back-to-back letters of credit, lower tariffs of target sectors like textile and apparel assisted in strengthening them.
"If these measures are replicated, it will contribute to diverse industries as per global market demands in addition to the indefinite markets," Mr Fahim cited.
He said Bangladesh has made substantial economic growth-oriented progress and managed to perform well in the spectrums of social indicators, natural disasters and poverty (now 21 per cent from 46 per cent in 2008), public healthcare and literacy.
In the past few decades, with the practice of democratic governance and increased accountability in bureaucracy, with the rise of entrepreneurs has enabled tremendous progress in sectors ranging from macroeconomic to social development, and all the tangible improvements have been reflected in the indexes of development partners.
Since the last decade, Mr Fahim said, the efforts of the current government under the leadership of Sheikh Hasina, working towards the vision of 2021, the achievement of SDGs in 2030, and the transformation into a developed country in 2041; have enabled new sectors to be incorporated into the economy.
"Telecom and e-commerce probably best fit the precedent for it. FDI, one of the major contributors to our economy, hit the peak within the last decade only."
Evaluating the country's overall progress over the past 50 years, Mr Fahim said Bangladesh had come a long way since its birth through 24 years (1947-1971) of democratic movements by Father of the Nation Bangabandhu Sheikh Mujibur Rahman, liberation war, sacrifice of 3.0-million martyrs, and 0.2-million mothers and sisters.
"In the first three and half years, our constitution was articulated, 26,000 accused war criminals were on trial; we became members of the UN, the OIC…"
Terming August 15, 1975 'the worst crime against humanity', the FBCCI chief said the following decades were dominated largely by anti-independence forces in diverse strata of society-a phenomenon that has contributed to delayed progress.
As the trend started to shift spearheaded by Sheikh Hasina in different capacities; Bangladesh started to be on the pro-independence trajectory experiencing fruition largely since 2008, he noted.
Since 2008, based on the seventh fifth-year plan, Bangladesh achieved MDGs, food sufficiency, decreased child mortality, access to basic healthcare, access to education with 320-million free textbooks and 120 social safety-net programmes.
On some milestones, Mr Fahim said Bangladesh is now the second-largest exporter of textile and apparel, fourth-largest freshwater fish producer, third-largest vegetable producer, tenth-largest steel raw material consumer and eighth in bicycle.
Even purchasing power parity-adjusted per-capita GDP is over $4000 and reliance on foreign aid reduced remarkably from 88 per cent in 1972 to just over 2.0 per cent in 2010.
Mr Fahim said the launch of Bangabandhu satellite, the country's qualification for LDC graduation, huge investment in updating industrial ecosystem like enhanced trade logistics with multimodal connectivity projects like Padma bridge, Karnaphuli tunnel, bay terminal, Matarbari port, HSIA T3 and others that would offset its international support measures after five-year transition period of LDC graduation.
An estimated 8.0-million Bangladeshis working in 155 countries contribute to the foreign exchange reserve.
Today, Bangladesh is the second-largest contributor to UN peacekeeping, with nearly 9,000 peacekeepers deployed globally.
"We're acknowledged globally as an example of human development and sustainable growth story," cited Mr Fahim.
On sustainable export growth, he said Bangladesh needs to diversify its export basket.
Some 84 per cent of the total export earnings come from ready-made garment and the rest 16 per cent from other sectors.
"When a country relies on a single product, it's vulnerable to both internal and external trade," he observed.
Bangladesh has 30-35 products in the export basket with Chinese market, including major products of frozen and live fish, leather goods, vegetable, textile fabrics, furniture, agro-products, tea, chemical products, raw jute, jute goods, knitwear and garments.
Only three or four products in the export basket can survive the Chinese market, according to Mr Fahim.
He suggests that Bangladesh focus on value chain sector-based support through fiscal, non-fiscal, tariff and applicable incentives across agriculture, light engineering, manufacturing, innovation, domestic and global skills.
"From entry-level products, we should start focusing value-chain approach towards premium and proprietary products and services through enabling science and technology."
On challenges in export over LDC graduation, Mr Fahim said international support measures were projected to decrease by 7.0-10 percentage comparative advantage.
"Our comparative edge may be enjoyed till 2023 and five-year transition period," he added.
Expectation in the next 50 years in terms of economic power, Mr Fahim said: "As we are to go up in the value chain in terms of our products, instead of exporting raw jute, we'll produce jute-based products for aviation, automobile industries, and as an alternative to single-use plastic."
At the same time, he asserted, punitive measures against a handful of wilful defaulters should be addressed without prejudice.
Moreover, businesses need a transparent bankruptcy policy to exit respectfully if a venture fails due to reasons beyond the promoter's control.
"While developing such a policy," Mr Fahim said, "we must be cautious that such policy is not exploited by individuals with malicious intent."
FBCCI Tech C is one vertical of FBCCI Impact 4.0 (2020), adapted by the current FBCCI board, to enable technology to strengthen business (MSMEs), startups by leveraging innovations across economic sectors in Bangladesh to be part of the Global Value Chain, an ecosystem with indigenous synergies.
"Through Tech C, we've executed startup entrepreneurship training with the Massachusetts Institute of Technology (MIT) Solve of USA. We're in partnership with Accelerating Asia of Singapore to leverage today's concepts of technology, collaboration, globalisation enabling us to thrive in the 4th Industrial Revolution (4IR)."