The much-hyped 230-kilometre marine drive expressway work from Sitakunda to Cox's Bazar is likely to start next year on completion of a feasibility study by December, officials have said.
Road transport and bridges ministry, the implementer of the Tk 250-billion project, states that the awarding of the contract may start after the study.
A plan is afoot to pick a contractor from among Chinese companies through tender to execute the project by Chinese funds on a G2G (government-government) basis, according to the officials.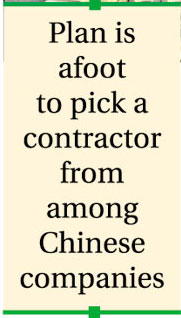 The ministry concerned in a letter to the ERD recently said the contractor selection process might begin after the completion of the feasibility study, they cited.
The feasibility of the project started on 20 August 2020 and is expected to finish by this December 31.
Earlier, Dhaka scrapped a deal with the China Harbour Engineering Company Ltd for the project 'Construction of marine drive expressway and coastal protection work from Sitakunda-Chattogram-Cox's Bazar'.
In September 2016, the cabinet committee on economic affairs approved the project under a direct purchase method.
China committed to financing the project during the Dhaka visit of President Xi Jinping back in 2016.
The Sitakunda-Cox's Bazar freeway will be connected with the Bangladesh-China-India-Myanmar Economic Corridor and the Asian Highway.
The project includes around 100 bridges and 80 kilometres of coastal protection work.
As planned, the marine drive will link at least 10 special economic zones in Chattogram region, a deep seaport and a coal-fired power plant at Moheshkhali.
It will also get connected to Chattogram port, Matarbari deep seaport, under-construction Bay terminal in Patenga and a proposed mini-port on Sitakunda coast.
Planning ministry officials say the project will turn the long seashore from Mirsarai to Teknaf into a hub of industries and tourism.
A number of economic zones-two at Anwara and Mirsarai, the country's biggest-and major projects like a deep seaport and a power hub at Moheshkhali are under construction along the coast.
Starting from Jorarganj of Mirsarai, the road will run along the coastal embankment of Mirsarai-Sitakunda using Bangabandhu tunnel to the other side of the Karnaphuli and from there to Cox's Bazar via Banshkhali and Chakaria upazilas.
The expressway will touch the existing 80-kilometre Cox's Bazar-Teknaf marine drive after crossing 150 kilometre through Cox's Bazar and 80 kilometre via Chattogram.
On the coastal protection component of the project, the official said, the project is designed to keep the entire area free from the risk of any disaster.