The effluent treatment plants (ETPs) installed in industries to treat factory wastewater are found to be inefficient to treat microplastics, according to a new study.
ETPs in local industries can treat traditional polluters but are not efficient to treat microplastics; therefore, microplastic-contaminated water released from factories is posing a serious threat to public health and the environment, adds the study.
Wastewater coming from the industrial unit to the tank of ETP is called inlet water and that ETP release after treating contaminated waste water is called outlet water. The filtration system or ETP removes solid waste particles.
A group of four Bangladeshi researchers collected samples from 11 industrial inlet and outlet water with sludge from different industries, including dyeing, washing, printing, battery and pharmaceuticals, in Bangladesh from September to October 2021.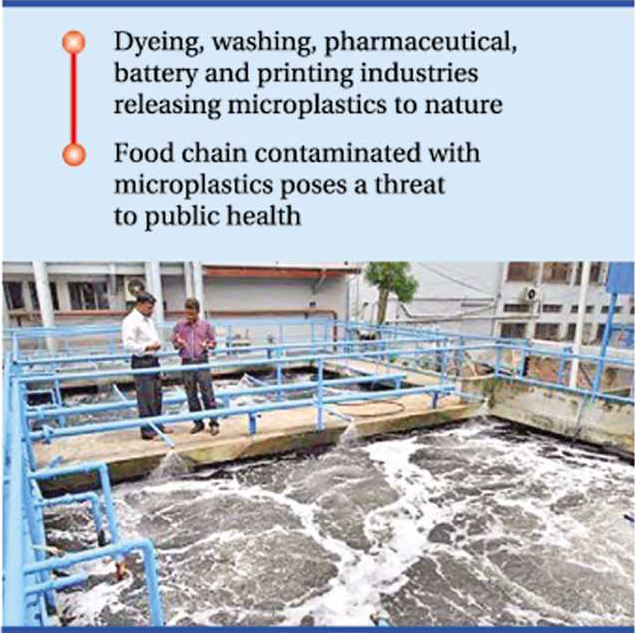 Industries in Dhaka, Gazipur and Narayanganj are among the major sources of microplastic pollution, according to the researchers.
The research team was motivated to investigate the source of microplastic, as evidence of microplastics had been found in food web, fish, water, sediments, agricultural soils and air. And microplastic can reach the human body if people eat microplastic-contaminated foods.
Microplastics do not have direct effects on living organisms, but their small size and sharp edges as well as polymer materials lead to long-term toxicity, says the study, which was published in the US-based peer reviewed Journal of Hazardous Materials Advances this September.
The Financial Express (FE) talked to two corresponding authors of the study - Dr Shafi Mohammad Tareq, professor, Department of Environmental Sciences, Jahangirnagar University, and Md Morshedul Haque, lecturer, Department of Environmental Science and Engineering, Bangladesh University of Textiles.
Prof Tareq said the treatment plants they examined showed an average of 62 per cent removal efficiencies, meaning that despite a treatment plant, 38 per cent of the microplastics were being released to the environment.
Microplastics were composed of nylon, cellulose acetate, and polystyrene. Industries use a lot of water every day and release it to the environment - some of them use ETPs. The industries that don't have ETPs are releasing all the toxic contaminators, including microplastics, to the environment.
So, industries at least have to use ETPs, suggested Prof Tareq, also Fellow at Higher Education Academy-UK.
"There is no policy at the government level of how much microplastics could be harmful or permitted to be released…," he added.
The government agencies concerned monitor the outlet materials of treatment plants in industries to ensure environmental safety but still there is no monitoring system or policy to control microplastics being released from industries, he added.
"ETPs in use in Bangladesh are mostly imported from China and India which are partially efficient to treat microplastic," Prof Tareq added.
Bangladesh is a leading country in the RMG and it produces a huge quantity of final goods. Therefore, the authorities concerned will need to review the existing policy to control microplastics, and develop technologies that can treat microplastics in industries' wastewater, underscored the expert.
Another researcher of the study, Md Morshedul Haque, said "Globally up to 65 per cent synthetic fibres used in textile industries in final goods carry plastics or polyester. It can release microplastic if textile goods reach the environment after human use."
The research found the highest number of microplastics in sludge installed in pharmaceutical industries while the highest quantity of microplastics were found in inlet and outlet of dyeing industries, he added.
"Officials in the local industries are reluctant to share the details on how industries deal with sludge waste. But as we know, sludge wastes sometimes are dumped in landfills, agricultural fields and used in some other factories like cement and brick kilns," Haque added.
Worryingly, these sludge wastes get spread out in nature during monsoon rainfall and end up in rivers. Meanwhile, water supply authorities treat the river water for preparing drinking water for the city dwellers.
"If the treatment plants are incapable of treating microplastic it remains in supplied water and cannot be purified even after boiling it. The cycle of the microplastic in the supplied water finally reaches the human body when we drink it," Haque warned.
In recent development, microplastics were found in human blood and in breast milk.
These indicate that microplastics have reached the human body from nature or through contaminated food, he added.